Which Attributes Describe A Good Landing Page
A landing page is the webpage where people end up after they click on an ad. The URL of the landing page is usually the same as the final URL of the ad. Landing pages are a part of inbound marketing and they can be used to sell a product, lead generation, or even content.
Your landing page is a critical link in the conversion process. Learn how to construct compelling copy and create a layout that will make your visitors want to convert, in this article
What is a landing page?
A landing page is a web page that allows you to collect leads from potential customers. The goal of a landing page is to convert p into leads, and the best way to do this is to offer something of value in exchange for the visitor's contact information.
To create a successful landing page, there are certain elements that must be included:
– A headline that clearly states what you are offering
– A subheading that elaborates on your offer
– An image or video that visually represents your offer
– A form for visitors to fill out to claim your offer
– A call-to-action (CTA) that tells visitors what they need to do next
If you include these elements on your landing page, you will be well on your way to generating leads and growing your business.
What should a landing page do?
An effective landing page should be designed with a single focused goal in mind. The page should be easy to understand and use, with a clear call to action that is relevant to the visitor. The layout and design should be simple and uncluttered, and the content should be concise and to the point.
What must be on the landing page?
A good landing page must be clear, concise, and to the point. It should have a strong headline that grabs the reader's attention and tells them what the page is about. The page should also have a strong call to action (CTA) that tells the reader what they need to do next. The layout of the page should be easy to follow and all of the important information should be above the fold.
What does the landing page include?
A good landing page includes a headline that accurately reflects the offer, a clear and concise description of the offer, images or videos that help explain the offer, and a form that visitors can use to sign up for the offer. The page should also be free of distractions, such as navigation links or sidebars.
How to create a landing page
When creating a landing page, there are a few key attributes to keep in mind that will help make your page successful. First, the headline should be clear and concise, letting visitors know exactly what they can expect on your page. Next, make sure your call-to-action is prominently displayed and easy to understand. You want visitors to be able to take the next step towards becoming a customer with ease. Finally, include relevant imagery and videos that help support your overall message. By following these tips, you can create a landing page that is effective and drives conversions.
The Anatomy of a Landing Page
When you design a landing page, there are certain elements that must be included in order to make it effective. Here is a breakdown of the most important components of a landing page:
1. A headline that clearly states what you are offering and why it is valuable.
2. A subheading that elaborates on the benefits of your offer.
3. An eye-catching image or video that further illustrates what you are offering.
4. A form for visitors to fill out to get more information or sign up for your offer.
5. A call-to-action button that encourages visitors to take the next step.
6. Social proof in the form of testimonials or customer reviews to build trust with your audience.
7. A clear and concise explanation of what will happen after someone takes action on your page.
8. Your contact information so visitors can get in touch with you if they have any questions.
9. A privacy policy to let visitors know that their information is safe with you.
Which Attributes Describe a Good Landing Page Experience?
Today, we'll be discussing the first type of good landing page experience.
Obviously, all landing pages should be relevant. You can't write an ad about weight loss and direct users to a landing page about toasters. You also shouldn't hide anything from your audience, such as pretending that your product only costs $10 when it actually only costs $10 for the first week.
Make sure that your page is easy to navigate – even if you don't include actual navigation. Make use of a big call to action button. If they want to leave your page, make it easy for them. If they want to convert, make sure that is easy too.
A good landing page should be designed with a clear and concise message that is easy for visitors to understand. The page should also be free of distractions, such as sidebars or navigation menus, so that visitors can focus on the call to action. Additionally, a good landing page will have a strong and effective call to action that encourages visitors to take the desired action, such as subscribing to a newsletter or making a purchase.
1. Easy to Navigate
Once a user lands on your page, you should ensure that they can easily navigate their way around the page. Even if you choose not to include main navigation, you should still make sure that it's easy for them to find the offer which brought them to the landing page.
Make sure your page is well-organised and designed in a clear manner so that users don't have to search your page for the information they're looking for.
Make sure that it is simple and quick for people to convert.
Don't utilise any annoying features, such as full-screen popups, which could interfere with a user's navigation of your landing page.
Help visitors find what they're looking for by prioritising the content that is above the fold.
Although a landing page shouldn't have links to other pages, I recommend adding anchor links that link to the section on the page.
To this end, do not confuse your users by offering multiple links to multiple offers and different sections of your site.
Similarly, avoid distractions to ensure a good landing page experience. Distractions are anything that could prevent a user from completing the desired conversion action and diverting them instead to another action.
Make sure to minimise all possible distractions, such as external links and any irrelevant menus or sidebars.
Additionally, make sure that all features on your site work correctly, and that the information is arranged in an easy-to-understand manner.
2. Deliver What You Promised
You want to align with the visitor's intent. Your upfront messaging needs to match the user's expectations. You don't want to make your visitor think.
3. Use Appropriate Color Schemes
Your visitors will react according to what they're visually pleased with. No matter what you think, it's always a bad idea to incorporate too many colors on your website. Instead, use subtle colors. Ideally, 2-3 primary shades from your brand color are great starters. You want to use one primary color for your main call to action (CTA) throughout your entire website.  Any secondary CTA's should be a subtle version of your primary CTA and all other CTA's should be a non-competing color with your primary CTA.
4. Remove Distractions 
When visitors land on your page It is important to focus on which attributes describe a good landing page experience however, it is equally important to avoid distractions that would confuse the visitor. Stay clear from:
Overuse of Colors
Incorrect Visual Emphasis
Rotating Banners
Flash Animation
Entry Pops
Sudden Pop-ups, etc.
Remember that less is more. You want the visitor to focus on the most important elements of your landing page, specifically the CTA.
5. Use Videos Appropriately
In 2023, the average person will spend 100 minutes each day watching online videos. If you are using videos on your website as demonstrations, or to show testimonials from existing customers, make sure you follow standard guidelines for all your videos.
Never start a video automatically.  They are distracting and can annoy a visitor. You want to give the visitor control of when and if they want to start the video.  You should label the video with a short description and the duration of the video.  Allow visitors to decide whether they want to watch the video.
6. Decrease Your Landing Page Loading Time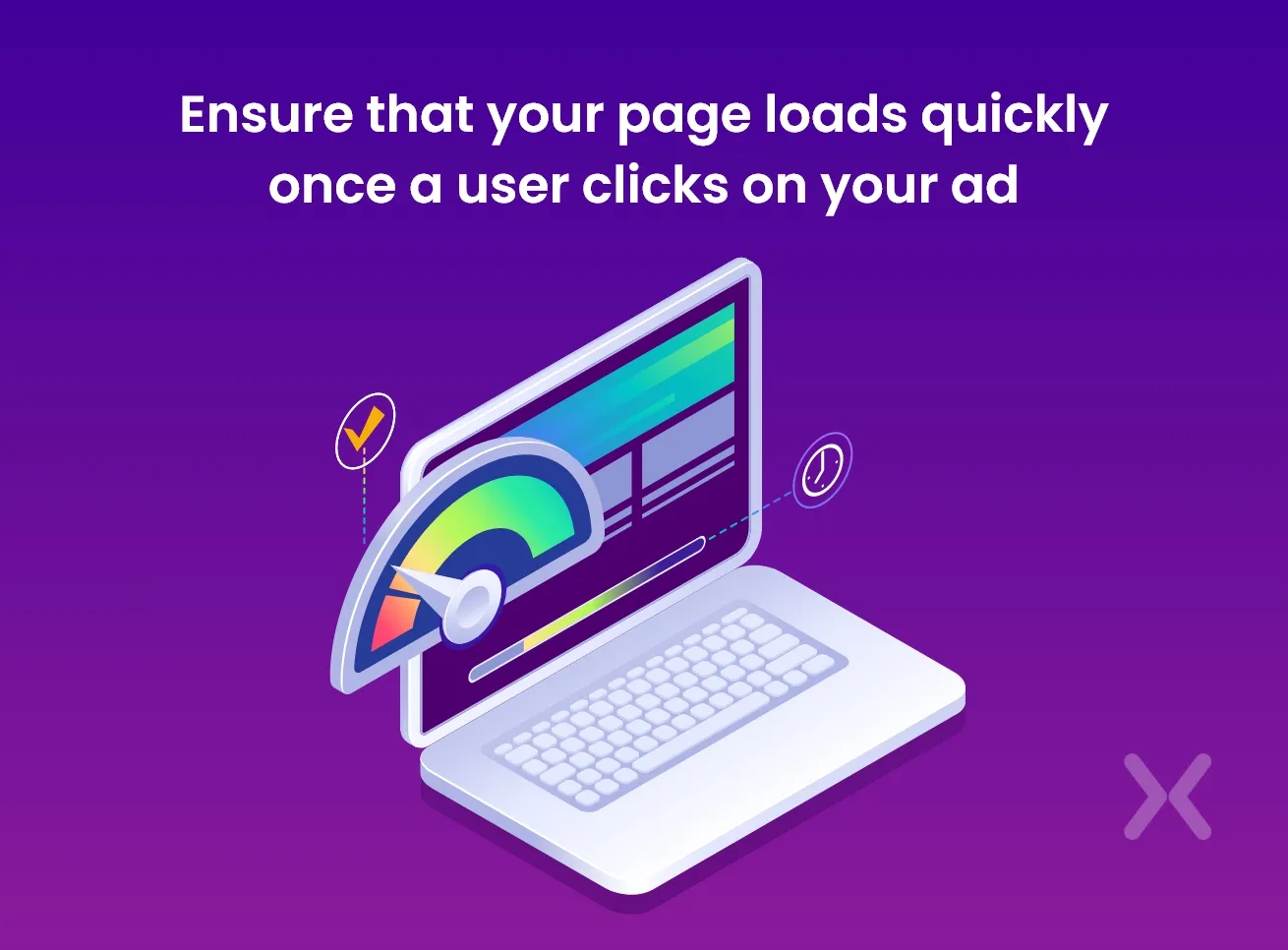 Ensure that your page loads quickly once a user clicks on your ad.
Make sure that your page performs well on both mobile and computer.
Considering converting your page into an Accelerated Mobile Page (AMP).
There is nothing worse than a website that spends forever loading. Think about all the times you visited a website that took too long to load. Did you wait around, or did you just bounce away?
Most users don't want to wait around for your landing page to eventually finish loading. If it takes too long, they'll often just hit the back button and click on another link.
There's no point in perfecting your landing page copy and images if it takes too long to load, and the users don't even get a chance to experience it. Additionally, Google penalises websites that have long load times. This has a negative effect on your landing page experience status, and therefore, your Quality Score.
7. Capture Data Fields Easily for the Visitor
More than just making the visitor glance over your well-designed website, your goal is to make your visitors actually sign up, subscribe for emails, or click the purchase button. If you want them to take these actions, make sure that the process is as easy as possible for them. Here are a few things that you should put on your checklist:
Mark all mandatory fields with an asterisk (*). Clearly indicate all fields marked with an asterisk are mandatory. It would also be useful to tell them why you need this information.
When you require a date to be entered, clearly mention the format you need it in (example: mm/dd/yy). To make it even easier, you can provide individual boxes with dropdowns to enter the day, month, and year.
When you require the address, have separate fields for country, city, state/providence, etc. Use dropdowns wherever possible. This way, there is less of a chance of typing errors. It also saves the visitor from typing too much.
If you have sent out an email or a text message with a discount code along with the link to your website, it is a good idea to have the coupon code auto-fill when they click on the link from the email or text. This is more convenient than making them manually re-enter the coupon code when they get to the website.
How to measure the success of your landing page
The success of your landing page can be measured in a number of ways, including conversion rate, bounce rate, and time on page.
Conversion rate is the percentage of visitors to your landing page who take the desired action. If your goal is to get people to sign up for your newsletter, then your conversion rate would be the percentage of visitors who sign up.
Bounce rate is the percentage of visitors who leave your site after viewing only one page. A high bounce rate may indicate that your landing page is not relevant to what people are looking for or that it's not visually appealing.
Time on page is the average amount of time people spend on your landing page. A high time on page indicates that people are engaged with your content.
Examples of landing pages that do well
Some great examples of well-designed landing pages include the following:
1. Slack's home page: https://slack.com/intl/en-ca/
Slack's home page is a great example of a well-designed landing page because it is clean, simple, and to the point. The visitor's attention is immediately drawn to the hero image and the CTA button, and there is very little else on the page to distract them.
2. Dropbox's home page: https://www.dropbox.com/business
Dropbox's home page is another great example of a well-designed landing page. Like Slack, it is clean and simple, with a focus on the CTA button. The hero image is also very effective in conveying what Dropbox does (i.e. provide storage space for files in the cloud).
3. Airbnb's listing pages: https://www.airbnb.com/s/homes?refinement_paths%5B%5D=%2Fhomes&query=homes&place_id=ChIJkbeSa_BfYgRMr9FW8ekhT58&source=mc_search_bar&search_type=filter&click_referer=t%3ASEE_ALL%7Csid%3Aaebc05d0-b4d8-487e- a4f7-4bae8f0e9a31%7Cst%3ALANDING_PAGE&screen_size=large&play_from=auto&irgwc=1&experiment_id=%2Bbuild+trust+with+reviews%2C+verify+your+identity%2C+add+more+listings
Airbnb's listing pages are a great example of landing pages that are designed to convert visitors into customers. The pages are very visual, with high-quality photos of the properties and clear information about what is included. The CTA buttons are also prominently displayed, making it easy for visitors to book a stay.
Conclusion
Landing page experience is more than just how well your landing page works. There are certain attributes that will define how your landing page is ranked. These attributes also play a role in determining your Quality Score, which affects your ad costs and placements.
To sum it up, a good landing page must be visually appealing, have a clear call-to-action, and be relevant to the user's search query. It should also provide enough information to reassure the user that they are in the right place, without being overwhelming. A well-designed landing page can be the difference between a user bouncing from your site or converting into a customer.