What is MongoDB? Introduction, Architecture, Features & Example
MongoDB is an open-source, cross-platform, and distributed document-based database designed for ease of application development and scaling. It is a NoSQL database developed by MongoDB Inc.
MongoDB's name is derived from the word "Humongous" which means huge, and enormous. MongoDB database is built to store a huge amount of data and also perform fast.
MongoDB is not a Relational Database Management System (RDBMS). It is referred to as a "NoSQL" database. In contrast to SQL-based databases, which standardize data under schemas and tables where each table has a fixed structure, this database does not do so. Instead of enforcing schemas, it saves data in the collections as JSON-based documents. In contrast to conventional SQL (RDBMS) databases, it lacks tables, rows, and columns.
How does it work?
We'll see how things actually work behind the scenes now. As is well known, MongoDB serves as a database server, and these databases are where the data is kept. Or, to put it another way, the MongoDB environment provides you with a server that you can launch and use to host several databases utilizing MongoDB.
Because of its NoSQL database, the data is stored in collections and documents. Hence the database, collection, and documents are related to each other as shown below: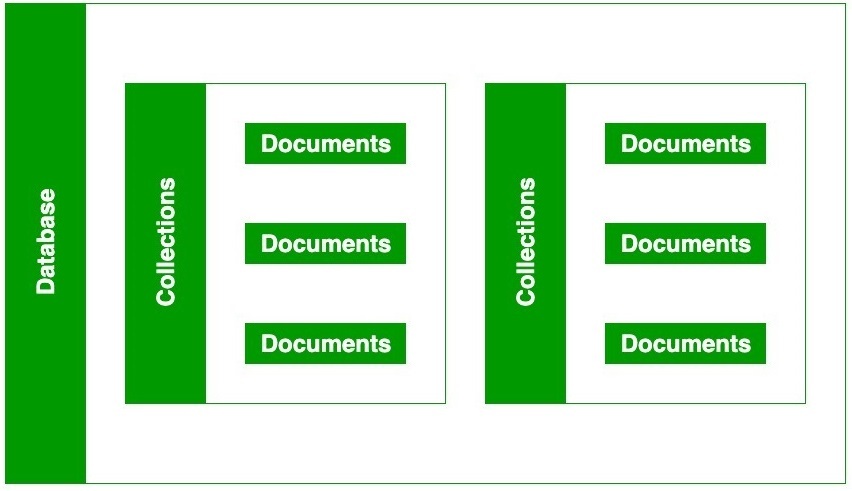 The MongoDB database contains collections just like the MYSQL database contains tables. You are allowed to create multiple databases and multiple collections.
Now inside of the collection we have documents. These documents contain the data we want to store in the MongoDB database and a single collection can contain multiple documents you are schema-less means it is not necessary that one document is similar to another.
The documents are created using the fields. Fields are key-value pairs in the documents, it is just like columns in the relation database. The value of the fields can be of any BSON data type like double, string, boolean, etc.
The data stored in MongoDB is in the format of BSON documents. Here, BSON stands for Binary representation of JSON documents. Or in other words, in the backend, the MongoDB server converts the JSON data into a binary form that is known as BSON and this BSON is stored and queried more efficiently.
You are able to store nested data in MongoDB documents. In contrast to SQL, this data nesting lets you to construct complicated relationships between data and store them in the same document, which makes working with and obtaining data incredibly efficient. To obtain the data from tables 1 and 2, you must create intricate joins in SQL. The BSON document can be up to 16MB in size.
NOTE: In the MongoDB server, you are allowed to run multiple databases.
For example, we have a database named Codelivly. Inside this database, we have two collections and in these collections, we have two documents. And in these documents, we store our data in the form of fields. As shown in the below image:

How MongoDB is different from RDBMS?
A NoSQL database is MongoDB. It is freely available. It employs BSON, which is a binary representation of JSON and is used in document-oriented databases. A document storage format is called BSON. MongoDB does not utilize SQL to query databases; instead, it saves data as documents. It has a rich data model and enables distributed servers.
| Sr. No. | Key | RDBMS | MongoDB |
| --- | --- | --- | --- |
| 1 | Concept | RDBMS is a relational database management system that works on a relational database. | MongoDB is a non-relational, document-oriented database management system that works on document-based database. |
| 2 | Hierarchical | Difficult to store hierarchical data. | Have inbuilt support to store hiearchical data. |
| 3 | Scalability | RDBMS is vertically scalable. Performance increases with the increase of RAM. | MongoDB is horizontally scalable as well. Its performance increases with addition of processor. |
| 4 | Schema | A schema needs to be defined in RDBMS before using a database. | Schema can be dynamically created and accessed in MongoDB. |
| 5 | SQL Injection | Vulnerable to SQL Injection attack. | SQL injection is not possible. |
| 6 | Principle | Follows the ACID principle, Atomicity, Consistency, Isolation, and Durability. | Follows CAP theorem, Consistency, Availability, and Partition tolerance. |
| 7 | Basis | The database uses Row. | The database uses Document. |
| 8 | Basis | The database uses Column. | The database uses Field. |
| 9 | Performance | RDBMS is slower in processing large hierachical data. | MongoDB is blazingly fast in processing large hierachical data. |
| 10 | Joins | RDBMS supports complex joins. | MongoDB has no support for complex joins. |
| 11 | JavaScript Client | RDBMS do not provide JavaScript based client to query database. | MongoDB provides Javascript based client to query database. |
| 12 | Query Language | RDBMS uses SQL to query database. | MongoDB uses BSON to query database. |
Understanding the
Pros and Cons of MongoDB