Ultimate ReactJS Resources For Web Developers
React.js is the most popular front-end JavaScript library out right now. The problem is that there are too many resources to choose from. How do you know where to find the best resources?
React.js is a library with a big ecosystem and there are many articles, courses, and resources out there. It can be confusing to know which are the correct ones to use for your purposes.
In this article, we went through a lot of React-focused resources. We found the best ones for you. These resources are designed to help you save time, land jobs, learn faster, and build your app more effectively.
What Is ReactJS?
As we all know, React is one of the best sources to create an interface for web applications. Moreover, React dashboards also have more advanced user interfaces.
It is an efficient, flexible, and open-source JavaScript library, that was developed and is maintained by Facebook. It is capable of rendering front-ends of web apps that are simple, speedy, and scalable.
React helps you to create an interactive user interface easily. No matter how complicated the data is, you can easily create interactive charts and UI elements smoothly with the ReactJS. Since it is created and maintained by the Facebook and Instagram community, you needn't worry about the quality of how well it manages the complex codes.
In addition, The major advantage of ReactJS is the option to render and view the components easily. It ensures readability and makes maintainability more comfortable.
Reasons behind the popularity of ReactJS.
Easy creation of dynamic applications
Reusable components
Improved performance
Small learning curve
Dedicated tools for easy debugging
Unidirectional data flow
Recommended ReactJS Guides
ReactJS Resources
Following are some of the useful ReactJS resources which deal with component libraries, examples, projects, tools, articles regarding ReactJS.
Official Resources:
Communities:
External Resources:
---
UI Libraries:
A UI component library is a (typically) comprehensive collection of ready-to-use UI elements including buttons, inputs, dialogs, and so on. They are used as foundations for layouts. We may assemble components in a variety of ways to generate unique effects because to their modular nature.
Material UI(MUI) – React components for faster and easier web development
Material UI (MUI)is a collection of components based on Google's Material Design standards. It has a lot of UI widgets that are both accessible and adjustable. Furthermore, the components are self-contained and only inject the styles they require, thereby improving the speed of your application. Furthermore, Material UI has a vibrant community and active maintainers. Furthermore, web development using React components is faster and easier. As a result, it is one of the greatest ReactJS user interface frameworks.
Blueprint – A React-based UI toolkit for the webs
BlueprintJS is a React-based UI toolkit for the web. It's designed to let developers create complicated, data-dense online interfaces for desktop apps that operate on contemporary browsers like Internet Explorer 11. This isn't a mobile-first user interface framework. Furthermore, Blueprint's React components are primarily intended for usage in desktop apps.
React-bootstrap – Bootstrap components built with React
React-Bootstrap replaces Bootstrap JavaScript. Each component was created from the ground up as a pure React component, with no unnecessary dependencies such as jQuery. React-Bootstrap, being one of the first React libraries, has evolved and matured with React, making it an ideal choice for your UI foundation. Furthermore, the React component paradigm allows us more control over each component's design and function. Furthermore, each component is designed to be as accessible as possible. As a result, it is one of the greatest ReactJS user interface frameworks.
Reactstrap – Simple React Bootstrap 4 components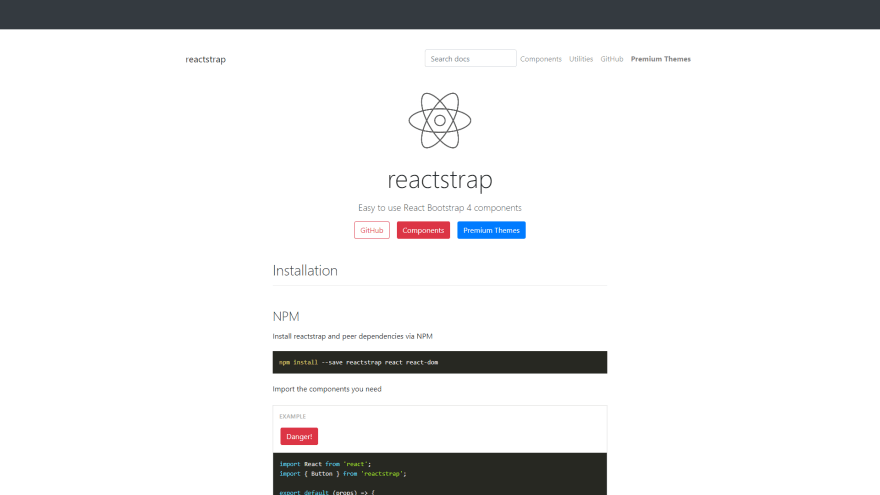 Reactstrap library contains React Bootstrap 4 components that favor control and composition. Besides, this library does not depend on jQuery or Bootstrap JavaScript. However, Poppers.js via react-popper is relied upon for advanced positioning of content like Tool-tips, Popovers, and auto-flipping Drop-downs.
Ant-design – A design system with values of Nature and Determinacy
Ant Design React UI library is a design system for enterprise-level products. It's based on the Ant Design project and contains a set of high-quality components and demos for building rich, interactive UIs. Besides, the components include internationalization support for dozens of languages.
Chakra-ui – Simple, Modular & Accessible UI Components for your React Applications
Chakra UI is one of the awesome ReactJS UI frameworks. It's a simple, modular, and accessible component library that provides all of the building blocks you'll need to create React apps. Furthermore, Chakra UI fully adheres to WAI-ARIA guidelines. Furthermore, all components are pre-configured with the appropriate properties and keyboard interactions.
Semantic UI React – The official Semantic-UI-React integration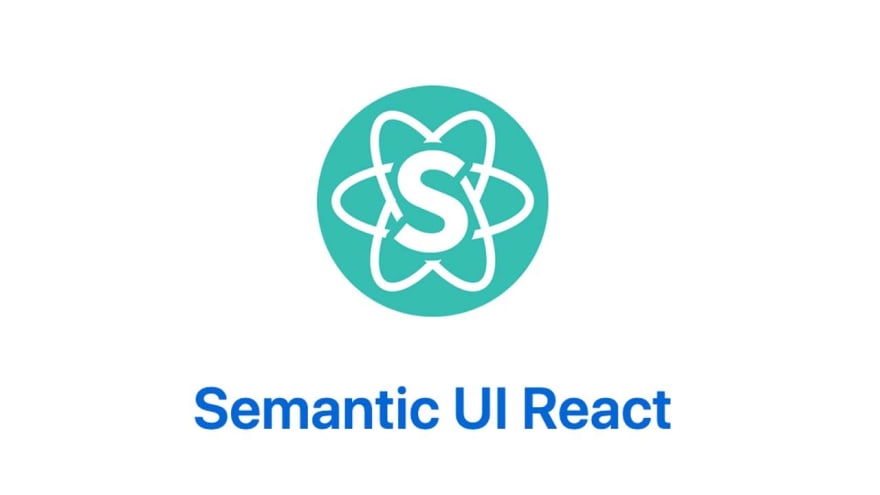 Semantic UI uses human-friendly HTML for its development framework. It also supports React, Angular, Meteor, Ember, and a variety of other frameworks. In addition, all of jQuery's functionality has been rewritten in React. It also allows you to apply any Semantic UI CSS theme to your Semantic UI React project. You'll also have total control over the markup, allowing you to customize components to your liking.
For more info check ReactJS UI Frameworks
Following are some other react UI libraries and frameworks.
Frameworks:
Next.js – The React Framework
Next.js is an open-source development framework built on top of Node.js enabling React based web applications functionalities such as server-side rendering and generating static websites. Next.js is widely used by the biggest and most popular companies all over the world like Netflix, Uber, Starbucks, Twitch, etc.
Gatsby.js – Free and open source framework based on React
Gatsby is an open-source framework that combines functionality from React, GraphQL and Webpack into a single tool for building static websites and apps. Owing to the fast performance of the sites it powers, impressive out-of-the-box features like code splitting, and friendly developer experience, Gatsby is fast becoming a staple of modern web development.
React Admin – Frontend Framework for building B2B applications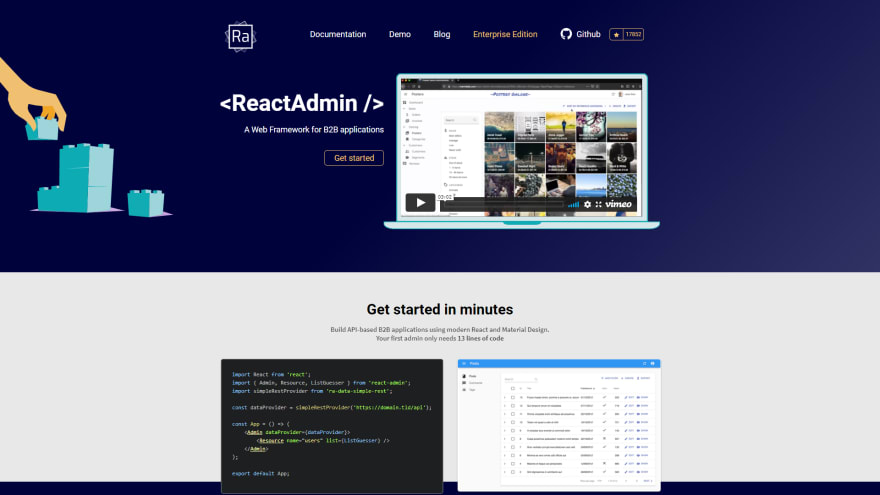 A frontend Framework for building data-driven applications running in the browser on top of REST/GraphQL APIs, using ES6, React and Material Design.
Blitz – The Fullstack React Framework
Blitz is a battery-free framework based on Next.js and inspired by Ruby on Rails, with a "Zero-API" data layer abstraction that eliminates the requirement for REST/GraphQL. It also has useful defaults and standards for routing, file organization, and authentication, while being incredibly customizable.
---
---
Open Source React Projects: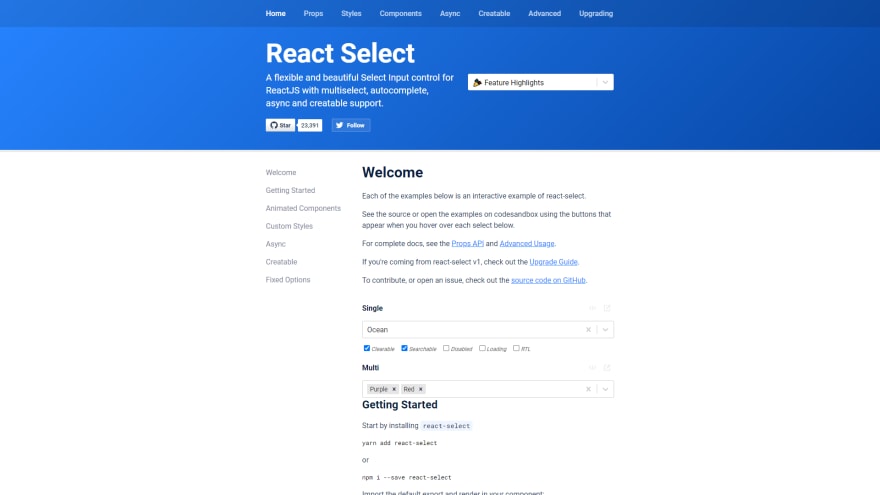 Multiselect, autocomplete, async, and creatable features are included in this flexible and elegant Select Input control for ReactJS. Thinkmill and Atlassian are the sponsors of React Select. It provides a new way of creating strong React.js components that operate right out of the box while still being highly customisable.
DevHub is a mobile and desktop app to help you manage GitHub Notifications and stay on top of Repository Activities. Save custom searches, apply filters, bookmark items and don't miss anything important.
React-spring is a spring-physics based animation library. This library represents a modern approach to animation. It inherits animated powerful interpolations and performance, as well as react-motion ease of use. React-spring is cross-platform, it supports the web, react-native, react-native-web, and practically any other platform.
ArchitectUI is the free, open-source React Dashboard Template. It comes with a set of beautiful elements and components that can offer you a head start in developing your web application. It has a fully responsive layout, multiple color schemes for both Bootstrap elements and layout components.
Take Note is an open-source project to take notes, known as The Note Taking App for Developers. It's a simple plain-text take note app with markdown support. Without all the fancy stuff that we don't need.
Write with me s a real-time collaborative markdown editor written in React with hooks and it uses AWS Amplify
---
Video Tutorials and Guides:
Get started with React in this crash course. We will be building a task tracker app and look at components, props, state, hooks, working with an API and more.
This is a full premium course. Learn React.js from the ground up with fundamentals to more intermediate and advanced topics. You will learn by building a real app.
Get Started with React.js and learn how to build amazing websites with ReactJS.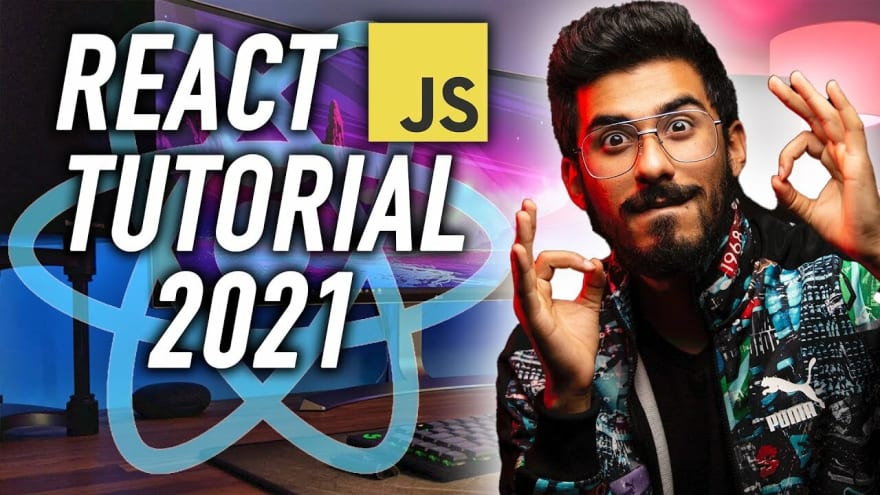 What You'll learn:
The Netflix Clone
The Spotify Clone
The Slack Clone
The Tik-Tok Clone
And the tools & technologies you need to succeed as a Modern React JS Developer.
Here you will understand the top new features coming to React 18, explained simply.
What You NEED To Know About React 18 By Harry Wolff
---
Useful Collections/Books/Articles:
Books:
The contents covered in the book are:
Fundamentals of React
React's Legacy
Styling in React
React Maintenance
Real World React (Advanced)
Deploying a React Application
The book gives some basic knowledge of how React works. You will learn how to build applications with it. The book provides some easy-to-follow practice exercises to reinforce what you have learned. The book will introduce all of React's basics from scratch. No prior knowledge of React or functional JavaScript is necessary.
The book gives a great introduction to React and related technologies. This book is a fun, hands-on and pragmatic journey to master React.js. Every section of this book is written in a bite-sized manner and straight to the point. It is a well designed book and easily understandable. The book is easy to follow and includes illustrations, examples, code snippets, and code explanations. It is a great book for beginners. Through this book, you will start building React apps within minutes.
This book is a fast-paced guide to designing and building scalable and maintainable web apps with React. This book helps to build maintainable and performant user interfaces for your web applications using React.js. The book adopts a step-by-step, hands-on approach with ample codes to ensure you learn React.js at a fast pace.
This is a great book to understand the basics of React. It is clear, concise and has a hands on approach which makes it easier to understand the concepts. Also, all the basic aspects are covered
Articles, Collections and Blogs:
---
---
React Tools
React Development Tools
React Starter Kits and Toolchains
create-react-app – Set up a modern Web app by running one command
Razzle – Build production ready React applications. Razzle is toolchain for modern static and dynamic websites and web applications
Neutrino React Preset– @neutrinojs/react is a Neutrino preset that supports building React web applications
react-starter-kit – Isomorphic Web app boilerplate
create-react-library – CLI for creating reusable, modern React libraries using Rollup and create-react-app.
tsdx – Zero-config CLI for TypeScript package development
React Routing
React Testing
---
Conclusion:
We've included some of the most useful ReactJS resources below. You'll undoubtedly want certain tools, UI component libraries, admin templates, video lessons, and other resources when working on the ReactJS project. So, to save you time, we've put some fantastic resources here so you don't have to go looking for them.
We are open to suggestions so do tell us which other resources can be included in the list. Also, don't forget to share and bookmark this collection.
We hope you find this collection useful.