IOS Developers Roadmap 2023
iOS developers who create apps for Apple devices are in high demand as more firms embrace a mobile-first approach, with skill shortages leading to high wages and a significant number of available developer opportunities for those in the sector. Developers who are familiar with the required programming languages and other abilities can design apps that businesses and consumers use on a daily basis to make their lives easier.
To help those interested in the field better understand how to break into a career in mobile development, we compiled the most important details and resources. This guide on how to become an iOS developer.
What does an iOS developer do?
An iOS developer creates, tests, and improves applications for Apple's iOS operating system that are in line with their company's or client's goals and standards. They must have a thorough understanding of iOS and how it interacts with various Apple devices such as the iPhone, iPad, Apple Watch, and Apple TV, as well as the ability to customize their apps to their firm's or client's needs.
How to Become an iOS Developer
You can find an iOS skills matrix, such as the one shown below, if you do some investigation. This iOS skills matrix is a collection of the abilities required at various levels on the path to become a senior iOS developer. The matrix is exact enough to give you a notion of the iOS developer skills you'll need, but vague enough to prevent canonizing any one knowledge area. In other words, it is only intended to be used as a guide to assist you in charting your course.
In this article, we'll go through the foundational iOS skills that are necessary to learn if you want to become an iOS developer and get a job or build your iOS apps.
Let's Begin
Step 1: Learn Swift
The ability to program is one of the most important abilities for an iOS app developer. These iOS developer skills might vary greatly depending on your existing skills, the skills that will be most efficient for you to learn, and even the skills that will help you pivot your software/app development skills to other ecosystems besides iOS development.
For example, you can build iOS apps using Java programming skills and also use those same java programming skills to develop for Android, Mac, Linux, and Windows. If you face time or budget constraints and you anticipate that you may sooner or later pivot from iOS development to other platforms or ecosystems, then training and preparing for a java exam is an excellent option to investigate. However, if you love software development and also have the time and budget—but still anticipate that you will want to venture into other ecosystems besides iOS—then back-end, front-end, or full-stack developer training may be a better option. You could, for example, learn to build an iOS application that runs on Angular, which is a part of the MEAN stack.
Although some programming abilities can be transferred to iOS development, sticking to programming languages designed for iOS and the Apple ecosystem is your best bet. Swift is the programming language to focus on if you're learning to write for the first time or want to focus solely on iOS and Apple development.
The ideal way to study Swift and the iOS platform is to start with the basics, then progress to advanced concepts, and lastly to the iOS platform. This technique is based on the fact that most iOS developers try to master both Swift and iOS at the same time and end up confused and unable to grasp either.
In this light, the best-recommended path to follow is to learn the following:
Basic concepts. Including variables, numbers, strings, constants, and operators
Collections. Including dictionaries and arrays
Control flow statements. Including for/while loops, if-else, and switches
Types and interfaces. Including structures and enumerations, methods, functions, protocols, and extensions
Object-oriented programming concepts. Including inheritance, classes, and polymorphism.
Recommended Roadmaps
Step 2: Learning SwiftUI
The second fundamental skill I mentioned was SwiftUI, which is an Apple framework that allows us to develop Swift apps for iOS, macOS, tvOS, and even watchOS. So, while Swift is a programming language, SwiftUI is a set of tools for creating apps, including how to display images, text, buttons, text boxes, data tables, and more. To be clear, SwiftUI isn't a Swift substitute; it's a framework built on top of Swift that allows us to create apps, so you'll need both Swift and SwiftUI to succeed.
If you thought Swift was new, you ain't seen nothing yet – as I record this SwiftUI isn't even two years old! But despite being so new, the iOS community has embraced it wholeheartedly because it's just so awesome to work with.
Now, Apple has an older framework for building iOS apps called UIKit, and if you ask a bunch of folks whether you should learn SwiftUI first or UIKit first you'll get a range of answers. In fact, there's every chance that if you look in the comments for the YouTube video for this article you'll find a bunch of folks telling me I don't know what I'm talking about and that UIKit should be a priority.
So, in case you were curious here's why I think you should focus on SwiftUI as a core skill:
It is significantly easier than UIKit, and I mean significantly – it takes maybe a quarter of the code to get the same results that you would get in UIKit, plus you have fewer things to learn along the way. This means you get a lot of momentum because you build things faster, see your results faster, and iterate on those results faster, which is super motivating while you're learning.
SwiftUI was built for Swift, using language features to help you avoid problems and get maximum performance. For example, if you change some data on one screen of an app, SwiftUI will automatically make sure that new data is updated anywhere else in your app that uses it – you don't need to write code to keep it all in sync yourself, which is surprisingly complex. In comparison, UIKit was written for Apple's older language, Objective-C, and as a result has all sorts of quirks and cruft that came about as a result of its age.
SwiftUI works on all of Apple's platforms, so you can take what you learned on iOS and use it to build a macOS or watchOS app with almost identical code. Sure, some things like the Digital Crown only exist on one device, but the vast majority of what you learn will work everywhere.
But most importantly, SwiftUI is where things are going. If you were applying for a job right now – today – then fine you will probably need to know UIKit, but as you're reading this article it means you're much earlier in the process. Yes, UIKit is more popular now, but by the time you finish learning 6, 9, or even 12 months from now, SwiftUI will be the dominant UI framework.
Step 3: Learn the iOS Platform
After learning Swift, the next step is to study the vast iOS platform that is comprised of different design patterns, frameworks, and other technologies. Even if you decide to pursue a programming language other than Swift to develop iOS apps, you will still need to understand how things work in the iOS ecosystem.
As with anything you want to master, starting by learning the fundamentals is the best way to go. Without learning the fundamentals, you won't be able to use the more exciting technologies like augmented reality, artificial intelligence, or even building games. More importantly, without learning the fundamentals, you won't have the essential knowledge required to gain employment or build apps that people will want to use.
With this in mind, some of the fundamentals that you will need to learn in the iOS platform include the following:
Understand 'Apple Developer' (formerly called the Apple Developer Connection or ADC) from an overview perspective. Apple Developer consists of the resources you will need to write the software for iOS, macOS, watchOS, and tvOS.
Learn Xcode and Interface Builder in-depth. Xcode is the IDE or integrated development environment that you need to develop software for iOS and other Apple software. To run Xcode, you will need a machine running macOS. Interface Builder will allow you to create iOS interfaces using a GUI (graphical user interface).
Auto Layout. Learning to use Auto Layout within Xcode will help you build user interfaces for devices of different sizes.
Table views. Table views are another vital component of the user interface that will help you manage long-scrolling lists in iOS apps.
Containers and storyboards. Containers help you create screen navigation flow in your iOS app, while storyboards allow you to design and organize navigation flows created using containers.
If all of these concepts and tools sound like a foreign language to you right now, don't worry about it. Simply start by gaining an overview of the different tools and design models, and you will find that familiarity will become second nature.
It's also important to mention that SwiftUI recently replaced all of the above tools contained in the UIKit, which was a framework introduced at the Apple Worldwide Developers Conference (WWDC) in 2019.
Step 4: Expand Your Knowledge With Essential iOS Developer Skills
After you understand how to code and the environment that you use to build your iOS apps, it's now time to expand your knowledge into other areas that will give your apps a professional polish. Understanding these areas is what will give you the opportunity to grow your skill level and eventually become an expert.
There are many areas of knowledge that you can branch out into. Have a look at the iOS skills matrix above to get an idea of the things that you need to know. Also, understanding the following areas of knowledge will have a massive impact on your iOS development journey:
DatabasesiOS apps and most other modern applications rely on databases to store and retrieve data. Understanding how databases work (and the query languages that are used to manipulate data) can be invaluable skills, helping you get ahead with iOS development.
NetworkingMost modern iOS apps require data that moves back and forth across the internet. This means that an iOS developer must understand how the internet works. Luckily, iOS makes it easy by providing SDKs that offer several APIs to perform network requests. In addition to these APIs, you will also need to understand the DNS system, URLs, and other general networking concepts.
Step 5: Apple's Xcode IDE
It is another thing that you should be the master at. Xcode IDE is the real reason that makes the app excellent and offers magnificent user experience. It is said that it takes from concept to code to customers.
It is highly integrated with Cocoa and Cocoa Touch frameworks and it is a primary environment to build apps for various Apple devices such as Apple TV, iPhone, iPad, Mac and Apple Watch.
It also helps a developer to enable different Apple service such as Passbook and Game Changer too. For an iOS developer, you need to have a thorough understanding of Apple's Xcode IDE.
Step 6: Spatial Reasoning
Spatial reasoning is one of the key aspects of developing an app. It is all about thinking from an app user's point of view and how a user will interact and use the app. You need to think out-of-the-box to make the end user feel good and satisfied while using the app.
By thinking logically as a user, you will be able to design an interface and add functionalities that are more accessible, comprehensive and useful for the user. You need to envision it to make more meaningful and useful apps.
Step 7: Design Guidelines
What Apple users love about different Apple devices is their intuitiveness that literally lures them to buy Apple products. To attain this, there are specific guidelines and defined procedures to follow to create iOS apps. .
During your training program at an iOS app development company, you need to learn how to build such phenomenal apps while sticking to the Apple design guidelines. Once you have developed this art, you will be able to create miracles.
Step 8: UI and UX design experience
Both UI and UX is related to the design of a mobile app or a web app but functions slightly vary. UI is based on theb look of the app and UX depends on how the user uses the app. Effective execution of UI/UX design in the making of a mobile app can create a drastic change to its entire look which inturn engages more users.
Step 9: Apple Human Interface Guidelines
You should be well-verse used with Apple Human Interface Guidelines that will make your iOS app developing journey smooth and simple. These guidelines help an app developer to come up with apps that have superior visuals, maximum impact and reach and stupendous user experience.
Step 10: Networking
Get familiar with JSON- JavaScript Object Notation to understand how data are sent and received over web or networking. It is a simple and standard format for data interchange and being an iOS developer, you need to learn it.
Step 11: Core Data
For a user, it is quite frustrating when the app they use frequently, does not save the data and they have to start from scratch every single time they use the app. Core Data removes this problem by storing data on Apple's devices.
Step 12: Grand Central Dispatch
We all love apps that are simultaneous in nature. Generally, an app does many tasks simultaneously such as gathering data from the internet, understanding human inputs, displaying data and many more.
Average iOS Developer Salary in the US in 2022
According to major job portals, the average iOS app developer salary starts at $87,000 and finishes at $126,000. It's difficult to know which job portal is more accurate, so we decided to present all the results to compare.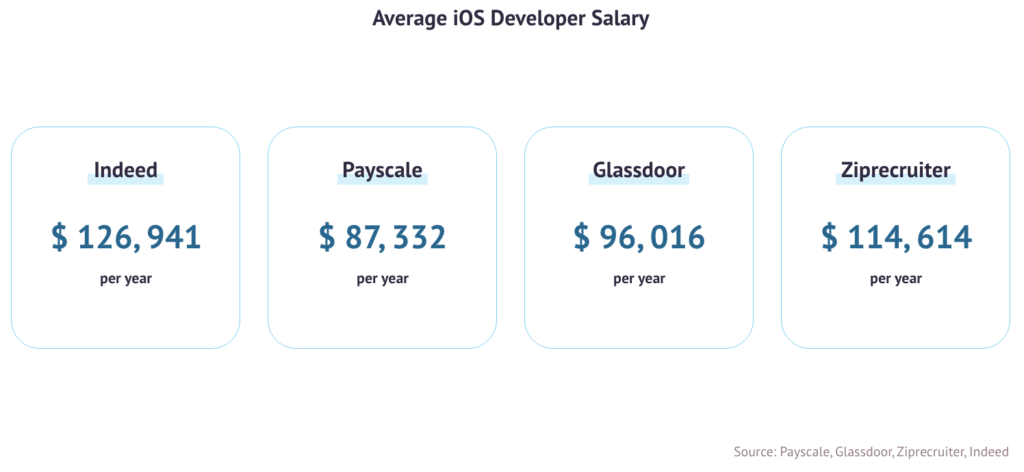 The smallest average salary was found on Payscale at $87,332 per year. The second trustworthy resource is Glassdoor. Based on its data, iOS developers in the US earn $96,016 per year. According to ZipRecruiter, the average iOS developer salary in the US in 2020 is $114,614 per year. This calculates to approximately $55 per hour. Compared to 2018, this yearly salary has grown by 28%.
Entry-level junior iOS developers can expect $40,000 per year.
A mid-level iOS developer's salary is $114,000 per year.
The most experienced iOS developers can earn up to $172,000 per year.
The largest salary iOS developers can receive is more than $120,000 per year. According to the Indeed report, this is based on two thousand salary reports.
Frequently Asked Question
Are iOS developers in demand?
Yes. With the growth of Apple, and new devices like the Apple Watch and Apple TV, the number of platforms on which apps can be used is growing. There is an estimated 20% growth expected in this job market in the United States.
How can I know if I am being paid fairly as an iOS developer?
If you're unsure about what salary is appropriate for an iOS developer, visit Indeed's Salary Calculator to get a free, personalized pay range based on your location, industry and experience.
How many hours do iOS developers work?
Most iOS developers can expect to work 40+ hours per week. However, many companies offer remote working opportunities, allowing developers to work from home at appropriate times. It is sometimes required for developers to work more hours if there is an imminent deadline, usually an app release. At these times working hours of 60+ per week may be required.
Can iOS Developer work from home?
iOS Developers can sometimes work from home, depending on their current work assignments and company policy. Covid-19 has prompted many companies to adopt remote working practices. As such, working from home is technically possible for iOS Developers at this time. Following the pandemic, companies may opt to retain their work from home policies in order to provide flexibility for their workforce.
How can iOS developers increase their salary?
By taking postgraduate courses and gaining certification in Swift, they can increase their knowledge and command a higher salary. iOS developers who have knowledge of a wider range of programs and how to incorporate those into iOS devices often attract high salaries.
Where do iOS developers work?
The majority of iOS developers' work takes place in offices. This job necessitates a lot of collaboration. Many people work in Silicon Valley, but there are jobs available all throughout the United States and even the world. Many freelance iOS developers choose to work as consultants since they may work from anywhere with an internet connection. This gives them a lot of freedom in terms of where and when they work.
What sort of personality is required to be an iOS developer?
iOS developers tend to be logical and methodical in their thinking. Developers need to be meticulous and able to be precise about what they want their app to do. App building can be tough, so someone who can stay focused, finish projects and reach their goals would suit this career path well. Being creative is also important, as many apps require original thinking in order to be successful.
Conclusion
So if you want to be a successful professional in iOS app development, aforementioned concepts will work wonders for you.
Becoming an iOS developer is no easy task. It takes time, patience, and determination to become proficient at the job. Luckily, there are plenty of resources, including training courses, that can help you on your path to becoming the developer that you want to be. Simplilearn's iOS Developer Certification Training is a great option and will help demonstrate your knowledge to prospective employers. If you take the time to learn the iOS developer skills mentioned above, you will be well on your way to gain from all the promise that becoming an iOS developer has to offer.