How to Start a Blog: The Beginner's Guide to Creating a Successful Blog
If you've ever read a blog article, you've taken in information created by a thought leader who is an authority in their field. If the blog post was well-written, there's a good chance you left with some useful information and a favorable impression of the author or company that created the content.
Anyone can connect with their audience through blogging and enjoy the myriad benefits that blogging provides: organic traffic from search engines, promotional content for social media, and recognition from a new audience you haven't tapped into yet.
But…how the heck do you get started? There's so much info out there on the web, and everyone's telling you to do different things. Who do you listen to? Where's the starting point?
Damnit, maybe you should just forget it – it's too confusing!
I promise it'll be simple, relatively easy, and definitely easy to understand (no stupid jargon). Sound good?
Awesome, let's move on.
Blogging is simple everyone can start in 2022
Why you should create a blog and join the blogging community
So below, I'm going to outline exactly what you need to do to get started and set up your own personal blog. Before we dive in though, I really want to talk about WHY you should build a blog.
Note: If you already have a solid idea of the whys, then skip this and go right ahead with the guide.
Blogging has quickly become one of the most popular ways of communicating and spreading information and news. There are literally millions of blogs online (don't worry, you can make yours stand out and get noticed!).
It's a wonderful method to express oneself and a wonderful way to spread knowledge.
You become a better person and a better writer.
The best reason? You can make money doing it!
I bet you already knew all of that, but it's nice to be reminded.
One very last thing before we get started:
Creating your own blog can take a little while, probably up to 30 minutes. So grab yourself a coffee or juice (whatever you fancy) and let's get stuck in. If you need any help during the set-up process, get in touch with me here and I'll help as best I can and answer any questions you might have).
How to Start a Blog in 8 Exact Steps
If you're looking for a quick guide on how to start a blog, here are the eight steps you should take:
Step #1: Pick a niche for your blog
Before you start building a blog and succeed as a blogger, you need to select a blogging niche.
In simple terms, a blog niche is a specific topic area that you will be writing about most often, or even exclusively.
Start by creating a list of all the subjects that interest you and make you want to share information about them in order to choose the ideal niche for your new blog. There are no limitations; you may include in this list any personal or professional interests.
Think of things that you enjoy doing in your spare time. Are you an amateur photographer, or an avid programmer?
Consider all of the things that you would like to learn. For example, do you aspire to take cooking classes and become a better cook?
Lastly, contemplate all of your plans and projects. Do you plan to go back to college to complete your education? Are you hoping to renovate your home?
There are no restrictions – you can include any personal or professional interests on the list.
This simple exercise will help you to select a niche that you are most interested in. This way you can follow your passion and enjoy your blogging journey.
Step #2: Choose a domain name and get blog hosting
Once you've settled on a niche, it's time to start preparing a website for your blog. Two of the most important steps for getting any blog online are securing web hosting and a domain name.
A web hosting service enables you to publish a website and all of its files online so that users can access it. Buying hosting entails purchasing server space from a hosting company, giving you access to the resources required to set up and maintain a blog.
To get your blog up and running you need two things: blog hosting (also known as web hosting) and blogging software. The good news is that these typically come packaged together.
Domain name
Your domain name will be the name by which you will be known online, regardless of which niche you choose. It's your blog's unique address on the Internet.
Here's what you should consider when choosing a blog name:
It should be short and catchy, and easy to pronounce and type.
You can also use combinations of your first and last names (e.g. johnsmith.com or tim.blog).
The general rule is to get a ".com" domain, but some of the other extensions can be used too. For example, ".net" or ".blog". In the end, it's about being memorable, so if a different extension helps you to stand out, then break the rules!
Web hosting
After choosing a domain name, selecting a reliable hosting service will be one of the most important decisions you make.
Your blog's performance and usefulness will be greatly influenced by your hosting company. The host is where your content is kept online and ensures that viewers can access your blog whenever they want.
If you are a new blogger, I suggest using HostGator hosting.
Here is why you should be confident about working with this company:
Ease-of-use: With Hostinger, you can set up your blog with a few clicks of a button.
Good value: You receive reliable service with excellent customer support at an affordable price.
Room to grow: They offer a great set of features that allow you to start, run, and grow your blog.
Security: Free SSL certificate included and pre-installed to keep your blog visitors' data safe.
Step #3: Create a Blog with WordPress
There are many blogging platforms to select from, as we've just mentioned. However, for the most strong background, we advise beginning a blog with the WordPress self-hosted CMS; hence, in this section, we will go over how to begin a WordPress blog.
One of the greatest CMSs on the market, WordPress is a great platform on which to create a blog. Although it can run practically any type of website, blogging was its original purpose. As a result, WordPress includes many tools and functionality for managing blogs.
Even though WordPress has a steeper learning curve than most website builders, there are many available resources to help users learn how to become a blogger quicker. Once you get the hang of WordPress, its daily management will become much easier.
The first step is to install WordPress on your blog site using the auto-installer provided by your hosting provider through the control panel.
Step #4: Select a theme and design your blog
The first thing your blog needs is a face (design and layout).
Installing a new WordPress theme is exciting and fairly straightforward.
Click "Themes" in the "Appearance" tab of the WordPress dashboard. You'll be given a few well-liked selections. Additionally, you can look for free themes by selecting the WordPress.org Themes button. There are more than three thousand themes available on WordPress.org.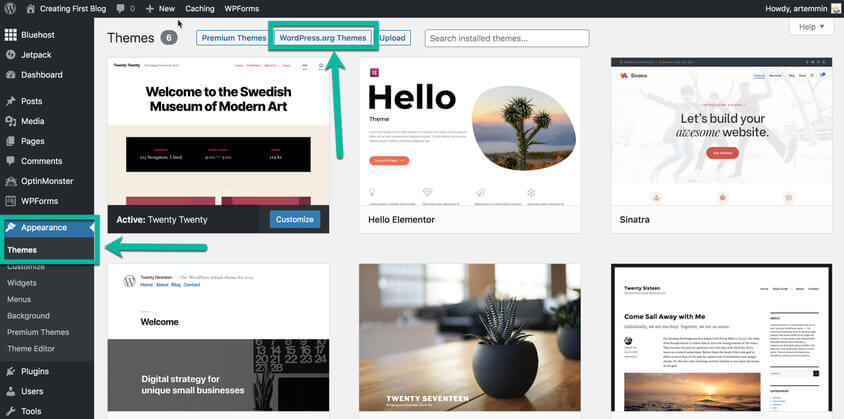 The theme you select will determine how your new blog will look and feel. Before they even look at the content, new visitors to your website will notice how it looks overall. Choose a theme that not only suits your demands but also looks beautiful.
Here's a quick guide for choosing your theme by searching within the WordPress dashboard:
Read the description – Most themes come with a short description of features and functionality. Reading it can help you to figure out if the theme matches your needs.
Preview the theme – Preview the theme (demo) to get an idea of the overall look, layout, and how customizable it is.
Check the ratings – Star ratings will be visible in the preview and under theme details to give you a clear idea of how good the theme is.
If you can't find a theme that you absolutely love, don't worry. Settle on one that you like, and you can always change it in the future.
Once you install a theme, don't be surprised if it still doesn't look quite right. It is just a skeleton of a blog. To make it appealing, you'll have to fill it in with content (text, photos, videos, etc.).
Should you choose a free or premium theme?
In my opinion, there are more than enough free WordPress themes to choose from for any blog topic.
If you don't feel like searching through thousands of themes, you can easily start things off with either Twenty Twenty or Twenty Twelve themes. Both free themes are presented by WordPress.org and are popular with creators.
Remember, you can always pick a different theme later as you continue setting up your blog. All of the pages and unique content that you create will be transferred automatically to a new theme layout.
You can browse the available premium themes if the present selection of free themes is insufficient to satiate your specific demand. These themes are often created by independent businesses and offered for sale on various WordPress theme websites. Depending on the premium theme you select, single-use license prices can range from $30 to $500.
Blog theme customization
Keep in mind that the back-end site where you will administer your new blog is your WordPress dashboard. It gives you quick access to all the resources you need to update your blog's content and optimize its operation for the best possible user experience. Learning the interface is the first step to mastering WordPress.
WordPress has unlimited customization options so it's impossible to cover everything in this "How to start a blog" guide. Instead, I'll cover the first most important changes you should apply to your blog. For this example, I'll be using the Twenty Twenty theme.
Customize your blog
Let me now demonstrate where you may make general adjustments to your blog. This involves adding the logo, updating the blog's title and slogan, adding a background image, modifying the homepage's settings, and changing the colors.
As I've mentioned, I'll be showing you how to apply these changes to the Twenty Twenty theme. If you picked a different theme the process could be slightly different. However, in most cases, all themes have similar customization options.
To start optimizing your blog, go to the WordPress admin dashboard. Locate the Appearance tab on the left-hand side and choose the Customize option.
Each WordPress theme will customize a little differently. In my case, I'll show you the customized options for the Twenty Twenty theme.
On the left-hand side, you will see the following Customizing menu options:
Site identity – Upload your logo, change the site title and tagline, and upload the site icon.
Colors – Change your blog's background color, header, and footer colors, and customize the primary color.
Theme options – Select if you want to show a search icon in the header of your blog and show an author bio for your posts.
Cover template – Make additional changes to the page template such as the overlay background color, overlay text color, and overlay opacity.
Background image – Upload any custom background image you want to start using on your blog.
Menus – Customize your blog's menu, and social media menu links, and change locations where they are displayed.
Widgets – Customize your footer, add a description, and how find you if you have a physical location.
Homepage settings – Choose what's displayed on the homepage of a blog. It can be the latest blog posts or a static page.
Additional CSS – Add your own CSS code to customize the appearance and layout of your site (advanced option).
You can also check how your blog looks on different devices by using the menu at the bottom with three icons: desktop, tablet, and mobile devices.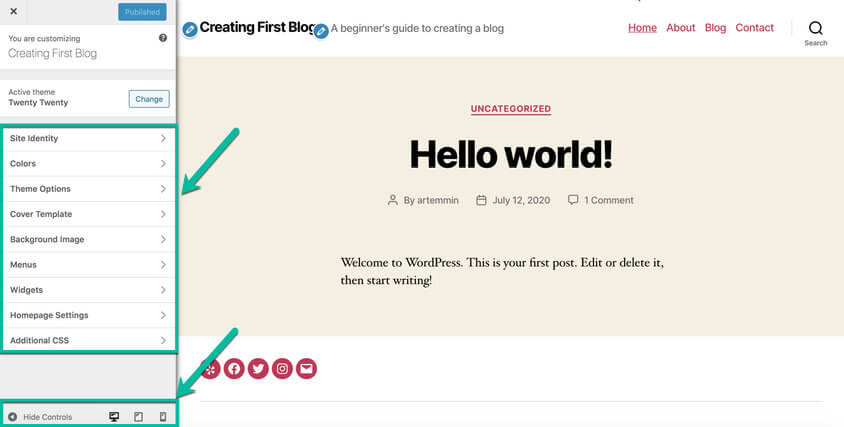 Many themes (e.g. the Twenty Twenty theme) come with the new Gutenberg editor that revolutionizes the way users build pages and write posts inside WordPress.
Gutenberg is a visual editor that works on a blocks principle. So, when you decide to add a new paragraph, heading, image, video, or anything else, there are blocks you can quickly add to new pages or blog posts.
In this approach, whether you're developing a landing page or writing a new article, creating blog material is considerably simpler for beginners. Blocks are here to simplify your life and can be reconfigured into whatever configuration you choose.
Add plugins to your blog
Plugins are collections of code that modify the appearance and functionality of your website. They can expand the functionality of your theme, add new functionality to your WordPress blog, and completely or partially customize a blog.
While the majority of plugins are free, there are many that are offered for a fee, based on their unique functionality. At the moment, WordPress.org has more than 57,000 different plugins in the repository.
When you set up your blog, Hostinger will by default incorporate a few plugins that they believe are essential for any website. By selecting the Plugins tab on the left-hand side, you may evaluate these plugins inside the WordPress dashboard and add new ones.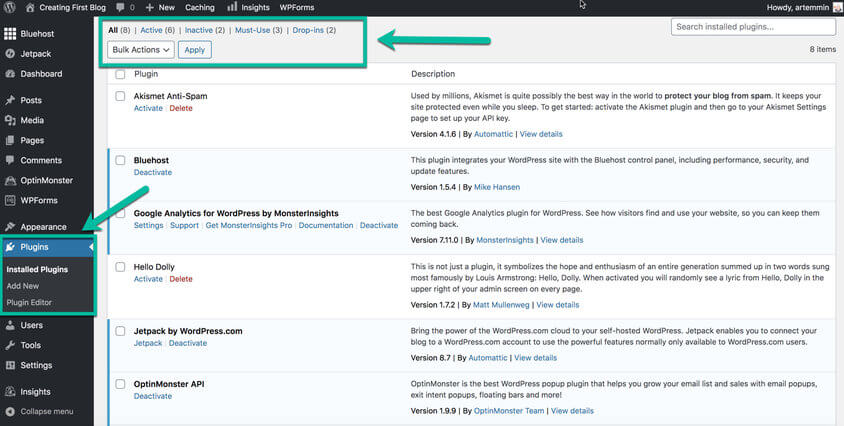 Here you can install new plugins, deactivate, delete, and update them.
Below, I'll show you some suggested plugins that you should be using.
List of recommended plugins for bloggers
To save you time, I've selected some important plugins (free) for your immediate blogging platform needs:
Congratulations, you just learned how to customize your blog and make web design changes!
The next step is to learn how to write content for your blog.
Step #5: Write and publish blog content
So far, you've established a domain name, chosen your blog hosting site, set up a blog theme, and you are ready to go. Your framework is complete.
Now is the important moment, when you may actually begin blogging. You must develop your initial blog post writing skills. Any relevant knowledge or experience you share with readers online is referred to as "content." It must be something worthwhile for people to engage with and return for more.
WordPress CMS is structured in a way that you can publish your content as Posts or Pages.
Before you begin publishing posts (day-to-day writing) on your blog make sure you fill in all the important static pages with content (such as About us, Contact, etc.). Let's explore those types of pages.
Prepare and publish content on main pages
Depending on your individual needs you can decide what pages to publish. The following are the most common pages bloggers use:
Homepage – This depends on what type of layout you choose. As I described above, when customizing your blog you can choose to display the homepage as a static page. In that case, you will have to prepare content for it.
About us – The most traditional page on any blog is the "About us" page. This page tells new visitors what it is all about, who you are and why you run a blog about your niche topic.
Contact – This page allows visitors to your blog to communicate with you. It can be a straightforward page with your email address plus your social network links, or you can use a simple contact form that visitors can use to communicate with you.
Products, Services, Resources – Static landing pages with any additional information that you want to include on your blog.
The guidelines to publish a new WordPress page:
A blog page offers readers information or content that is static. Blog writers frequently use the About, Contacts, Products, or Services pages. A page with material that is still useful to its users can also be considered cornerstone (or evergreen) content. For instance, the manual you are currently reading.
To create a blog page, log in to your WordPress dashboard admin area using your login details (username and password).
Hover your cursor over the "Pages" menu item on the navigation menu located on the left-hand side of the Dashboard. Click "Add New".
Write your first blog post
Creating blog posts inside WordPress is nearly the same as creating pages. However, for a blog post WordPress lets you select categories and tags while pages don't.
Wondering how you can write quality blog posts? It's simple.
Here is a simple 3-step approach to making great content of any type:
Point – State your main blog topic idea that you are covering.
Prove – Give an example of the idea you are covering.
Perform – Give a simple way to execute the idea.
The guidelines to publish a new WordPress post:
In your first blog post, you can take a moment and introduce yourself. Tell your readers who you are, what motivated you to blog, and what you will write. The title of the post could be "Welcome to my blog".
Inside the WordPress dashboard on the left side, you will see the Posts menu item.
Hover your mouse cursor (or click) on the Post item. Then select "Add New".
Next, I'll talk about how to optimize your content for search engines.
Step #6: Optimize your blog for search engines
Search engine optimization (SEO) refers to a set of techniques used to increase the ranking of a website on search engines.
Getting a website to rank high on search engine results pages (SERPs) is essential. According to BrightEdge, 53.3% of all website traffic comes from organic searches. If you have posts and pages ranking high on search engines, your blog will be more likely to enjoy a steady stream of organic traffic without having to purchase advertisements.
Here are some of the most common tips for blog SEO:
Keyword research. To have a better chance of ranking high on SERPs, target specific long-tail keywords with low competition. Use tools like Google Trends, SEMRush, or Ahrefs to gather keyword-related information.
Sign up for Google Search Console. It's an essential tool for tracking your website's performance on Google. It will let you know which keywords bring you the most traffic and which websites link to yours.
Install an SEO plugin. If you run a WordPress blog, Yoast SEO is one of the most popular SEO plugins. Some website builders, including Zyro, have built-in SEO features.
Apply on-page SEO best practices. Some essential on-page SEO tactics include optimizing images, adding meta descriptions, and changing permalink slugs.
Increase website performance. Faster page speeds positively affect SEO. Make sure to follow website performance guidelines to speed up your website.
Step #7: Promote, market, and grow your blog
By now, you've learned how to start a blog, how to create blog content, and how to get it discovered by search engines.
It's crucial to realize that you can create the world's most persuasive writing and a blog interface that would convince readers to buy your own shoes. However, all of your effort will be for nothing if nobody sees it. Therefore, you must understand blog promotion strategies.
Build Your Blog Audience on Social Media and Online Forums
Promoting your blog on social media and online forums is an excellent way to find your audience and connect with them. Your goal should be to find the communities in which people interested in your niche gather and then lead them to your blog to drive traffic.
97% of bloggers use social media to share their posts. It's a popular method to generate traffic, but this figure also means that the competition is high. Therefore, focusing your time and energy on a well-strategized social media strategy is essential.
The first step is to ensure that you incorporate social media into your blog. Readers who find your content interesting or valuable will likely want to follow your social media accounts and share your content with others.
There are plenty of social networking plugins accessible if you own a WordPress blog. You can access features like sharing, Facebook-like buttons, social media symbol widgets, and more by installing them.
The next step is to pick the social media platforms to promote your blog on.
Every social media network has its own distinctive features, and not every one of them will be appropriate for your particular niche. Therefore, before to beginning your social media promotion, it is crucial to conduct demographic research on each platform.
Here is some information about the most popular social media platforms that can help grow successful blogs:
Develop an Email Marketing Strategy for Your Blog
Email marketing is the practice of promoting your blog by sending emails to a list of recipients. Even in the social media era, email marketing is still a powerful tool for retaining blog readers.
It's worth noting that it is also known to have the highest ROI compared to other marketing methods.
Many hosting providers offer custom email accounts to their clients. If your website platform doesn't come with email, consider purchasing separate email hosting. This will allow you to create a professional email account like you@yourblogdomain.com.
Here are the three critical steps of email marketing:
Choose an email marketing tool. An email marketing tool will simplify the management of your email marketing campaigns. If you have a WordPress blog, there are many newsletter plugins to choose from.
Build an email list. On your homepage and individual posts, always encourage new readers to sign up for your email newsletter. You can offer incentives like exclusive content and free ebooks via email to convince them.
Send high-quality emails. Make sure to offer real value in every email you send. Craft engaging subject lines that reflect the content of the email. Add call-to-action buttons, such as "Read here," that link to your blog post.
Try Out Guest Blogging
Publishing content for other websites is known as guest blogging or guest posting. The fundamental concept is to increase traffic to your blog by having it published on websites with significant audiences. Additionally, you have the chance to provide hyperlinks to your blog, which might help your SEO.
Be sure to only choose websites that are relevant to your niche. That way, you'll make sure that you write guest blog posts that will attract your ideal target audience.
When pitching an article to one of the websites you've selected, make sure that the topic fits the theme of the website.
If your pitch is accepted, begin writing the guest post. In addition to providing backlinks to your blog, use internal links that direct readers to other posts on the website. Avoid blatant promotion of your blog.
Keep in touch with the webmaster you collaborated with after the guest post has been published. Your chances of getting future pitches accepted by bloggers increase if the guest article is successful.
Getting organic traffic from search engines
By now, you already know that it's important to optimize your content for search engines.
However, in order to increase your organic traffic, you will have to learn how to get your content to rank higher in search results.
There is no magic formula for higher rankings, but you should focus on the following factors:
Create useful content for your readers, not search engines.
Consistently create fresh and quality content.
Make sure that the user experience is flawless.
Ensure that your blog is secured (HTTPS), mobile-friendly, and loads quickly.
Interlink your content and work on getting external links.
Advertising on the web (paid traffic)
Appropriate and well-informed use of paid media can help you to gain exposure and attention before your organic (naturally derived) traffic takes hold.
Paid traffic avenues include:
Remember that you can always find other ways to promote your new blog.
Step #8: Make money blogging (optional)
Monetization is the process of translating your blog activity into earnings.
You should keep in mind that blogging isn't just about making money. It is about creating useful content and writing blog posts that will attract readers and make them come back for more.
When creating a blog, consider including information that will produce revenue in the future. I've found that some types of material are better at making money from blogging, both from my own experience and through working with other bloggers.
Here are types of content that you should consider writing and adding to your blog:
Listicles or top list
How-to guides
Tutorials and manuals
Product reviews
Product comparisons
Now, let me show you some different ways how bloggers make money.
Blog monetization channels
Opportunities to earn money blogging will present themselves once your blog takes hold. There are numerous ways to make money from your blog. Here are a few of the most popular techniques:
Running ads on your blog
There are seamless possibilities for you to run ads on your blog. Regardless of your niche, you can opt for ads that are specific to what you are writing about or ads that simply better serve your advertiser's purposes.
Google Adsense, Mediavine, and Adthrive are some of the most popular choices for blog ads.
Enrolling in affiliate programs
Affiliate programs are ways of teaming up with retailers to promote their products and benefit from successfully carrying out sales through a commission.
Some things that you need to consider when enrolling in affiliate programs:
The number of affiliate sales will strongly rely on the number of visitors you have.
You need to be credible enough for your visitors to click on your links.
You may want to consider placing a notice on your Terms of Use page that you do use affiliate links.
There are a few popular online platforms that offer affiliate programs if you want to get started, such as Amazon Associates, ShareASale, and ClickBank.
Selling your products and services
If you have an entrepreneurial spirit and are creative, you can think about using your blog as a platform for selling your own goods and services. This is a choice, particularly when the audience, stature, and popularity of your blog increase.
There are WordPress plugins, such as the WooCommerce plugin, that you can easily integrate into a blog and start using to sell products online. 4
User subscriptions
Create exclusive content that visitors can unlock with a subscription to a separate membership site or a section of your blog. Maintain the value of the subscription by regularly offering unique, high-quality content
Selling sponsored posts
Advertisers are always looking for exposure and are willing to pay you for placing a sponsored post on your blog.
These posts are a good approach to monetize your site because they typically highlight the goods or services of advertisers. In the future, marketers may approach you to publish their content if you can develop a successful blog and establish yourself as an authority in your niche.
Why Start a Blog?
The reasons for starting a blog will vary from person to person. However, if you're looking for an extra nudge, here are some reasons why you need a blog:
Self-expression. A blog is a medium to write and share your thoughts on a specific topic. This process is exciting and therapeutic for many people.
Connecting with people. Running a blog allows you to reach new people, build a blogging community, and make friends. If you're a professional, it's a great way to network with other experts within your industry as well.
Making money. There's no denying that blogging has become a lucrative online business. It's a flexible and mostly risk-free idea for a side hustle.
Learning new skills. By building a blog, you'll improve your skills and learn new ones, including writing, marketing, SEO, and web development.
What makes a successful blog?
A blog's success is mostly dependent on the author's passion, creativity, experience, and competence as well as what they provide to the community. Your success is only constrained by your ability to publish as many posts as you can as long as you give the readers you're trying to connect with stuff that is fascinating, educational, and engaging.
Keep writing, keep interacting, keep engaging, and your blog quickly become one of the success stories. As long as you're passionate about the subject matter, the sky is the limit.
Is blogging worth it and still relevant in 2022?
Simply put, Yes, blogging is still relevant in 2022 and beyond.

Technologies change. Business processes evolve. But I believe that making a blog today is still as worth it as it was 10 years ago. Blogs are a fantastic way of introducing your ideas, products, brand, business, and content to the world.

I don't want to suggest that blogging is simple. You must put in a lot of effort and give your blog the attention it needs if you want to succeed as a blogger, especially in the beginning. You'll need to produce high-quality content, engage with readers in the comments, advertise your blog on social media platforms, and then repeat.
Will you be able to motivate yourself to do it right, day in and day out?

Blogs are an excellent tool for community-building, but if you're not willing to be the central voice, i.e. the focal person for it, you'll have trouble maintaining it. Blogging is a public act that will put you in the spotlight. The more successful you become, the more attention you will receive for your words.
How much does it cost to start a blog?
You can make a blog for absolutely nothing. It doesn't cost one red cent.
But let's be honest, here. You can't just get a subdomain from a free blogging platform like Blogspot if you want your blog to be taken seriously. Instead, you should choose and register a unique domain name. On average, domain names cost $15 a year. You are now a whopping $15 in debt.
But the best way to start your blog is through one of the many web hosting companies. The best web hosting choice is a WordPress hosting account through HostGator which is $2.75 per month and includes free domain name registration, so your total cost for 1 year is just $33.
These are the main costs associated with starting a successful blog. Of course, you may incur other costs with additional services such as email marketing. As with any business, the biggest expenditure is often advertising, but this would be a cost incurred later on down the road if you choose to go that route.
FAQ
Is Blogging Still Profitable?
Yes. As long as people still look up information on the internet, it will remain possible to run a profitable blog. If you work strategically within your chosen niche, you will be able to make a lot of money blogging.
Should Blogging Be a Full-Time Job or a Side Hustle?
Generally, we recommend blogging part-time when starting out. You should only consider making your blog a full-time endeavor once it has started growing considerably and you can rely on your blog income to support you.
What Are the Most Profitable Types of Blogs?
Many blog niches can be profitable if you're strategic and publish consistently. Some of the most profitable niches include food, beauty, fashion, finance, and home decor. These types of blogs are easily monetized through sponsors, affiliate links, and exclusive content (eBooks and online courses).
Where Can I Create a Blog for Free?
WordPress is one of the best options to make your own free blog or with minimum costs. You can also try out platforms like Medium to start an online free blog, but it doesn't offer much customizability or plenty of monetization features like WordPress does.
Conclusion
Starting a blog has many advantages for your personal and professional development. Additionally, successful blogs are a great way to earn extra money or even create your own business. The good news is that it is now easier and more affordable than ever to begin your blogging journey.
We've covered every step in this tutorial to help you learn how to start a blog, from selecting what to write about to choosing a platform, creating content, and marketing and monetizing your blog.
We hope that this article has helped you learn the process of building a blog. If you have any questions, let us know in the comment section below.