Best JavaScript IDE & Code Editors to Use
JavaScript is the popular programming language of the web. It interacts well with CSS and HTML to create powerful front-end applications. NodeJS is a high-level, interpreted program that was introduced with the release of NodeJS.ming languages expanded its reaches to backend development.
It triggered the creation of a wide range of JavaScript frameworks, IDEs, and source code editors. Because of the ability to debug code and support for ALM (Application Lifecycle Management) systems, an IDE is chosen over code editors. Nonetheless, the line between source code editors and integrated development environments (IDEs) has blurred in recent years.
Why use JavaScript?
Here are the reasons for using JavaScript:
It can enhance the interaction of a user with the webpage.
Easy to learn.
You can debug the application with ease.
JavaScript is a platform-independent language.
There is no need for compilation.
Are there any great IDEs for JavaScript?
There are a lot of them! There are substantial expensive IDEs with powerful features, and there are free ones. There are code editors with and without IDE-like functionality.
In today's world, JavaScript is commonly utilized for frontend development. As one of the most widely used technologies, it attracts a lot of developer interest. Native Script and progressive web apps are two examples of cost-cutting technologies.
As with every well-designed programming language, JavaScript has a variety of tools tailored to it. These include JavaScript text editors and integrated development environments (IDEs). However, with so many options, how can you select the best one? So, to put it bluntly, you can't. It is dependent on the individual's tastes as well as the project's requirements.
What is an IDE?
An IDE (Integrated Development Environment) is an environment that helps with app development. Most of the time, it is used for code editing, debugging, and automation.
The purpose of IDEs is to make the developer's job easier. It's a single location where all of the work may be completed. The use of IDEs became possible with the introduction of consoles and terminals. Previously, such software would have been technically impossible to develop.
IDEs are very beneficial in big work settings since they allow several individuals to work on the same project at the same time. Some even allow numerous individuals to work on the same piece of code simultaneously. Add to that a fantastic user interface for navigating and managing the code of large projects.
Top JavaScript IDEs provide great tools to automate code writing, testing, and debugging. So it saves cost, which is suitable for businesses big and small. Time is money, and money saved is money made.
What is the difference between IDEs and editors?
The main difference between IDEs and JavaScript editors is that the later one doesn't have rich debugging features. Also, IDEs support various ALM systems like Git or GitHub. However, since most code editors have support for those systems, there's no longer a big difference in that regard.
IDEs for JavaScript programming are thus fantastic in many respects. They improve the development process by speeding it up and making it more efficient. Furthermore, their capacity to test things in real time has various advantages. Despite this, code editors remain popular due to the fact that many of them are available for free. They're also smaller, faster, and require fewer resources, allowing them to be utilized on laptops and smartphones.
Moreover, to make things more confusing, part of IDE functionality is getting introduced to code editors. It turns them from spiced up notepads (they were 10 years ago) into IDE-like platforms.
Recommended Javascript Guides
Best JavaScript IDE and Source Code Editors
Though the basic functioning is the same, each JS IDE and source code editor has some distinct advantages, and disadvantages as well, over others. Here is our pick of the 14 best JavaScript IDEs and Source Code Editors to use :
Vs code (aka VS Code) is a product of Microsoft. It's important to not mix this up with Visual Studio that is mainly aimed at .NET development.
This is one of the best IDEs for JavaScript development. It is very powerful and rich in features and most of all, it is free to use.
Features:
Support for multiple languages (JavaScript, TypeScript, etc.). Custom extensions can be installed on this to support ecosystems of C#, C++, Python, etc.
Syntax highlighting
Auto-complete with IntelliSense
Capabilities to debug code by attaching running apps and including breakpoints
Shortcuts to make coding efficient
A marketplace with extensions to support many extra functionalities (E.g.- Docker extensions)
Integration capabilities with Visual Studio Code Online
Version controlling via extensions
Pros:
Powerful Multilanguage IDE
Nice built-in features like auto-highlighting repeating variables
It's lightweight
Helpful for quick script modification
Better UI, easy plugins, and nice git integration
Cons:
More advanced debugging features would be helpful
Including a built-in screen for package management
Its user interface is really intimidating to new and beginner users
Atom is an open-source IDE that gained a lot of interest before Visual Studio Code was released. Another reason for its popularity is because it is supported by GitHub. Atom is a program that runs on the Electron platform.
In many aspects, Atom is identical to Visual Studio Code. It is compatible with Windows, Mac OS X, and Linux. It is licensed under the MIT license and is free to use. It also provides auto code completion, multiple project support, and multiple section editing, among other features.
Features:
It has an integrated package manager.
You can find, preview, and replace text typed in a file or across the entire project.
IDE supports the command palette to run available commands.
You can easily browse and open a file or project.
Quickly find and replace text as you type in the file.
This application can be used on Windows, OS X, and Linux.
Pros:
Git Integration
Cross-Platform Support
Multi cursor support
Cons:
If you've worked in the software business for a long, you've probably heard of JetBrains, a firm that develops integrated development environments. WebStorm is another JetBrains tool that focuses on JavaScript development.
JavaScript, HTML, CSS, Angular JS, TypeScript, Node.js, Meteor, ECMAScript, React, Vue.js, Cordova, and others are among the technologies and languages it supports. WebStorm runs on Windows, Mac OS X, and Linux.
Features:
You can test your code with ease using tools like Mocha, Karma test runner, Jest, and more.
Trace (the process of verifying code manually) your JavaScript code with ease.
This IDE offers a wide range of plugins and templates.
It quickly rolls back to previous versions.
Coding style, fonts, themes, and shortcuts can be customized.
It offers a built-in terminal.
Integration with VCS (Veritas Cluster Server)
Parameter hints
Git integration
Intelligent Code Completion
Multi-line to-dos
Pros:
Like the product of the JetBean, the UI is very familiar as the famous IntelliJ
The JS static code scanning out of the box is very handy
Auto fix is also a very productive feature to mention
It by default has well integration with Angular, TypeScript, Vue, React
IntelliJ IDEA is another IDE by JetBrains. This has two editions; Community and Ultimate. The Community edition is free to use whereas the Ultimate editions require purchasing a license.
IntelliJ IDEA is one of the most popular IDEs, with a major focus on increasing developer productivity. In addition to supporting a variety of programming languages other than Java and JS, the IDE's ergonomic design makes it simple to use.
One of the most amazing features of IntelliJ IDEA is its ability to automatically add tools that are relevant to the context. The integrated development environment offers a number of smart code assistance features for JavaScript development.
IntelliJ IDEA can automate repetitive programming activities to save time during development. Advanced code completion, a built-in static code analysis, and integrated version control are all included in the IDE.
Features:
Advanced code completion
Built-in static code analyzers
Deployment and debugging tools for most application servers
Test runner UI
Code coverage
Git integration
Supports multiple build systems
Extensive database editor and UML designer
Supports Google App Engine, Grails, GWT
Intelligent text editors for HTML, CSS, and Java
Integrated version control
Automates repetitive programming tasks
Pros:
Auto-completion
It has built-in support for version control, so whenever you feel like you need to backtrack to a previous state or version of a website you saved, you can easily do it
Plugin support is really great.
Cons:
The console that comes with the IDE is somewhat laggy.
There are some minor bugs
The latest version of Sublime Text is SBT3, which transforms the tool from being a source code editor into a pseudo-IDE. Sublime Text is cross-platform and offers a high degree of customization.
Sublime Text has a clean interface and provides a big performance gain. Out-of-the-box features include enhanced pane management, Go to definition, and Go to Symbol. The Babel plugin is provided to enable syntax highlight for ES6 and ReactJS code.
Some important plugins that anyone using Sublime Text for JS development must use are DocBlockr, JSFormat, SideBar Enhancements, and SublimeLinter.
Features:
It offers a command palette for changing the syntax.
You can quickly go to the definition of class or method.
Sublime Text provides API to extend the features.
This tool supports shortcuts for ease of access.
Sublime Text provides a command palette to hold frequently utilized functionality.
It highlights the syntax.
Pros:
Sublime Text is powerful where you need it to be, but simple and out of your way at the same time.
Great keyboard shortcuts and multi-selection options
Great package manager installation process for easily extending functionality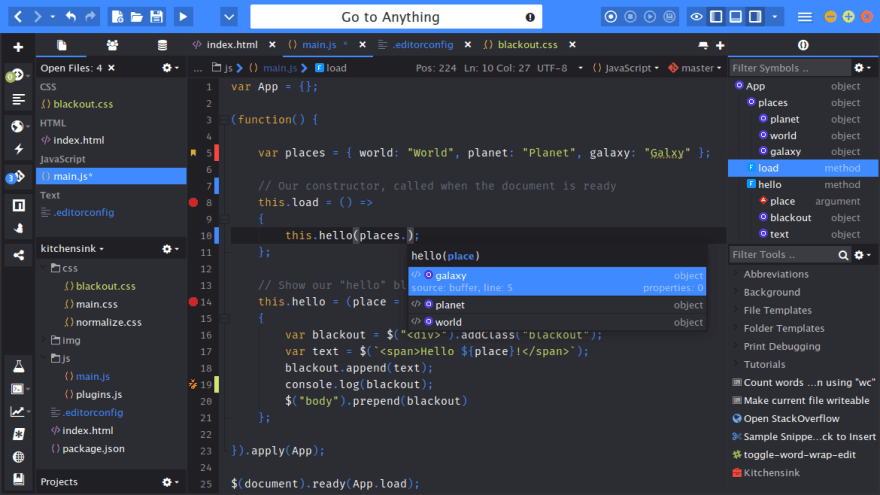 Komodo IDE provides advanced JavaScript editing, syntax highlighting, navigation, and debugging, but it doesn't include JavaScript code checking. For that, you can always run JSHint in a shell.
Komodo also supports a wide range of programming and markup languages. Komodo IDE is an excellent alternative for end-to-end development in open source languages because of its extensive programming and markup language support, which includes refactoring, debugging, and profiling.
Komodo has a code refactoring module for all of the languages for which it provides code intelligence: PHP, Perl, Python, Ruby, Tcl, JavaScript, and Node.js.
NetBeans has very good support for JavaScript, HTML5, and CSS3 in web projects, and it supports the Cordova/PhoneGap framework for building JavaScript-based mobile applications. NetBeans is available free under an open-source license.
Syntax highlighting, autocompletion, and code folding are all available in the NetBeans JavaScript editor. JavaScript code included in PHP, JSP, and HTML files may also be edited with the JavaScript editing tools. The editor has jQuery support. Node.js and Express, Gulp, Grunt, AngularJS, Knockout.js, Jade, Mocha, and Selenium are all new or upgraded in NetBeans 8.2.
As you edit, code analysis runs in the background, generating warnings and tips. Debugging is supported in both the embedded WebKit browser and Chrome with the NetBeans Connector. The debugger may create breakpoints in the DOM, line, event, and XMLHttpRequest, as well as show variables, watches, and the call stack. Browser exceptions, failures, and warnings are displayed in an integrated browser log window.
Features:
NetBeans integrates issue tracking with Jira and Bugzilla.
In the NetBeans task window, you can search for tasks, save searches, update tasks, and resolve tasks in your registered task repository.
NetBeans also has team server integration for sites that use the Kenai infrastructure.
Pros:
Powerful for Automation
Good Service Management
Impressive Refactoring
Cons:
Poor Integration Support
Consumes more system resource
Irritating Pop-ups
Eclipse is one of the best IDE for JavaScript development. Basically, full-stack developers use Eclipse for JavaScript coding. Although, for JS, you need to install some specific plugins.
The accurate performance of JavaScript Development Tools is the highlight of Eclipse. A brand-new Docker UI helps to build Docker images as well as containers with the Docker CLI. Another striking feature is automated error reporting. With this feature, the IDE can send the bugs found in the IDE to eclipse.org
Pros:
Powerful Project Management
Almost all packages support Git integration.
Advanced Debugging
Good Auto-Complete
Cons
Most changes require a reboot to take effect
Complex for beginners
Poor Customer Support
Open source text editor that is powerful and customisable and supports a large number of programming languages. TextMate is a powerful plain text editor with a unique set of features. More than a hundred distinct "modes" have been established by a fast increasing community, including support for all major programming languages, producing prose in structured forms such as LaTeX, Markdown, Textile, and others, blogging, performing SQL queries, composing scripts, and much more.
Features:
Multiple Carets
Scoped Settings
Version Control
Bundles
Conclusion
Everything's quickness and quality become the most vital aspects of every firm. And you should do everything you can to improve the timeliness and efficiency of your project. IDEs are an excellent way to make your development process more efficient. You'll be able to get answers in minutes and better serve your consumers.
Most of the IDEs allow online editing and tracking. This ensures that you have a better response time or a shorter time for launching to production. So, you are faster, better, and reduce development costs at the same time. All you need to do is decide which one is the right IDE for you.
Hopefully, now you know which one is the best of all! Alternatively, feel free to reach out to us. Here at codelivly, we can handle all the necessary development for you.
"Happy Learning"