121 of the Best Places to Learn to Code For Free
If you're brand new to the world of coding and web development, it makes sense to start by teaching yourself using all the free learn-to-code resources online.
Before spending money on a particular coding language or set of classes, you can find out what you enjoy and don't like by making use of these tools as you learn to code for free. You'll be able to harness your desire to continue learning how to code online most effectively once you've gone through enough free coding tutorials to identify that direction.
However, there are so many free coding resources and classes, and books to choose from. How do you know which are the best places to learn to code online?
Well, I did some research to save your time! Here are 121 of the best websites to learn how to code for free–from simple programming tutorials to full online coding courses. I categorized these learn-to-code resources by topic to make things simpler. To navigate, use the table of contents below.
General Free Coding Websites & Course Platforms
The web page of Khan Academy claims that "You can learn anything" and among the numerous subjects it offers are many on computer programming. The whole family may learn to code for free because a few free coding classes are available for younger children, too!
Codecademy is one of the most popular free coding websites for beginners. You can learn programming and other technical skills on their platform. It is well-deserving of its status as one of the top free coding websites. The core concept of Codecademy is interactive learning, which means that you can read a little, input your code directly into the browser, and get results right away.
Another excellent resource where you may learn to code for free online is EdX, An open-source higher education program overseen by MIT and Harvard.The site offers hundreds of great courses under the "computer science" category, teaching various coding languages. Because it features courses from world-class universities, like Harvard and MIT, it's easily one of the best websites to learn to code for free.
Quincy Larson founded this free online coding school, which first teaches you how to code using a pre-established curriculum (which takes up over 3,000 hours in total), then it gives you practical experience working on various projects. It's ideal for students who want to learn how to code online while gaining useful, hands-on experience that will impress hiring managers when they put their IT knowledge on a CV. They have many free coding projects, such as a budget app, a people finder microservice, and a cat photo app.
Free coding certifications on offer: HTML, CSS, JavaScript, data visualization, DevTools, QA testing, Node.js, React, jQuery, and more
With its expert and numerous course offerings, Coursera is one of the finest places to learn to code for free. The website offers a sizable collection of online courses given by reputable university instructors or well-known corporations (i.e., Google, IBM). Although all courses are free, you can pay for a "Coursera Verified Certificate" (prices range from $30 to $100) to demonstrate course completion. Sometimes purchasing a certificate also gives you access to materials that are not included in the free editions. Additionally, Coursera provides online degrees and "Specializations," which are groupings of courses on a particular subject and often conclude with a capstone project.
Udacity offers nearly 200 free coding courses, as well as "Nanodegrees" that train you for specific careers like front-end web developer or data analyst. Course materials are free, but Nanodegrees require a tuition fee.
Anyone may learn to code on SoloLearn, a social learning platform. Because it is mobile-based and allows users to learn to code on the move on any device, it differs from other free coding course providers. It makes learning to code fun and is available for download for free. It features bite-sized lessons, achievements to unlock, and interactive quizzes.
They offer both paid and free online coding classes. In fact, there are currently over 1,000 free courses in the web development category. Note that on Udemy, courses can be created by anyone, so make sure to read reviews. If you decide on a paid coding course, keep an eye out for Udemy sales and coupons. Check out their web development courses here.
Perfect for beginner coders, W3Schools is the world's largest web developer site, offering free coding tutorials and reference materials for learning just about every aspect of web programming. During your self-taught coding journey, you can also test your skills with quizzes and complete coding exercises using their online editor.
No enrollment is necessary to access this collection of MIT course materials. Its programming topics range from introductions in engineering problem solving to algorithms used in computer animation. The assignments for some courses do not include answers to questions.
Made by the creators of Viking Code School, an online coding boot camp, the Odin Project is free to all. It's project-based and offers a final course in getting hired with your newfound skills, which is a bonus. Coding languages offered include HTML, CSS, JavaScript & jQuery, and Ruby on Rails.
This learn-to-code resource focuses on online Java programming courses that are 80% based on practice. You'll start writing code almost immediately once you begin the free coding classes, completing 1200+ programming tasks and getting immediate results for your solutions.
Microsoft Learn's Learning Paths are curated free coding courses designed to help you build valuable skills through video tutorials, demos, assessments, and more. You'll also get access to free e-books, helpful downloads, and a community support forum.
This isn't a learn-to-code platform itself, but it's a great list of community-curated programming resources from some of the best free coding websites. Simply search for the programming language you want to learn and you'll get a list of the best online courses, tutorials, and books recommended by coders.
Free coding lessons they offer None, but they recommend many
Perfect for beginner coders, W3Schools is the world's largest web developer site, offering free coding tutorials and reference materials for learning just about every aspect of web programming. During your self-taught coding journey, you can also test your skills with quizzes and complete coding exercises using their online editor.
Edabit is "like Duolingo for learning to code," offering bite-sized coding challenges that simulate what programming is like in the real world. It makes coding for newbies fun and easy to fit into your daily routine.
YouTube Channels to Learn Code Online
17. freeCodeCamp
The nonprofit organization freeCodeCamp offers several comprehensive, self-paced courses on coding. Many of these courses incorporate YouTube videos with instructors who walk viewers through different modules.
On the social learning platform SoloLearn, anyone can learn how to code. Because it is mobile-based and available on all devices, it differs from other free coding course providers. Learn to code wherever you are. It makes learning to code fun and is available for free download. It features bite-sized lessons, unlockable achievements, and interactive quizzes.
Topics vary, although freeCodeCamp is typically true to its name and sticks with coding. Videos span from beginners' tutorials to more advanced topics like "Linux for Ethical Hackers" and "Code a Snake Game With Python and Pygame – Tutorial."

Will Stern focuses on programming as it applies to web development in his clear and uncomplicated courses. You will be guided through subjects like JavaScript and jQuery at Learncode.academy in Stern's brisk and thorough manner. One of Stern's more well-liked videos, the channel's trailer offers guidance on a web development career. This useful video describes the several routes you can follow to become a web developer and the order in which you should learn things.
The primary focus of Chris Coyier's content has been CSS and HTML and both of those topics are covered in significant detail. Other topics like PHP and Sass have been covered as well both in YouTube videos as well as on the CSS-Tricks.com website.
A channel perfect for absolute beginners who want a foundation to teach themselves to learn to code. Step-by-step tutorial playlists cover various languages without assuming prior knowledge.
What free coding videos they offer: Java, Python, C, JavaFX, Android programming, Bootstrap, and more.
On this YouTube channel, you can find free content from the creator of Code With Mosh (where he also offers paid courses). It's amazing for beginners who want programming concepts explained in plain English, from algorithms to front-end, back-end, and mobile development. As a software engineer himself, Mosh also gives career advice for those looking to follow that path.
Free coding videos available: Python, JavaScript, C#
Over 4,000 videos on a variety of programming, game development, and design topics may be found here. With more than two million subscribers learning to code with them, it's one of the more well-known channels. This is a wonderful choice if you want to learn how to write games for free!
What free programming videos they offer: Android development, C programming, MySQL, Python, and more
It is Banas' expertise to reduce knowledge of coding languages into a single video for each language. Good for viewers who prefer lengthier, more in-depth videos versus bite-sized ones or who wish to watch language overview films before enrolling in other online coding programs or curricula.
Free coding videos available: Java, Ruby, PHP, C++, HTML, Android, Python, Assembly language, and more
This free coding website includes step-by-step coding tutorials, tech career advice, coding project walk-throughs, "day in the life" type videos, and more. Tutorials are taught by YK Sugi, a software engineer at Google.
Free coding videos available: Python, data structures and algorithms, JavaScript
Free Coding Bootcamps
We provide all the details you require here if you're looking for free online coding instruction. The distinctions between free boot camps, free coding courses, free coding classes, and free coding programs are discussed.
A great place to start when it comes to free coding boot camps, Codecademy uses a teaching formula heavy on the "learn by doing" approach, proving an invaluable teacher for budding developers.
In fact, it was here that CareerFoundry's own founder Martin Ramsin began taking free courses when he was learning to code himself. Offering a huge range of paid and free options, Codecademy's web development courses are an excellent way to learn to code quickly.
Once you complete the beginner's courses in HTML and Ruby, you can move on to intermediate classes in CSS, PHP, the React library, Node.js, p5.js, and AngularJS 1.X. We really like that there are cool other free courses included, such as learning Game Development and how to program Amazon Alexa devices.
If you're a fan of the free courses, then sign up for their PRO plan, which lets you access hundreds more courses, as well as dedicated career paths.
Looking for a free coding Bootcamp that's as comprehensive as possible? UpSkill's "Essential Web Developer Course" is completely free and features a whopping 197 lessons to go through.
In it, you'll be getting to grips with HTML, CSS, Ruby, and JavaScript, then focusing on lots of practical elements of being a web developer through a range of tools and frameworks. All of this is carried out according to UpSkill's founding message—to explain all of these concepts as simply as possible.
They also have a JavaScript Basics Bootcamp, as well as many more free and paid courses.
This non-profit school aims to break down the barriers preventing women and gender-expansive adults from thriving in tech.
Their free coding Bootcamp, which is based in Seattle, prepares students for the job market by teaching them not just how to create code but also—and this is essential to debug and discuss it. One essential aspect of web development that many boot camps ignore is knowing how to communicate about web development with others, whether they are coworkers, clients, or other teams.
In addition to learning the likes of Python, HTML, SQL, and JavaScript, Ada Developers Academy also gives its students training in advocacy in techs—such as diversity and inclusion, leadership, and advocacy work, to name just a few. This is important across the tech sphere, not just within company environments, but also in the work itself.
This online learning site offers a variety of free coding bootcamps, just as its title suggests. These can include certifications in Python machine learning, APIs and microservices, frontend development libraries, and responsive web design.
Perhaps even more useful still to budding web developers is the fact that freeCodeCamp boasts thousands of coding challenges. As well as rehearsing common web developer interview questions, is an excellent way to prepare for job applications.
Famous coding bootcamp Flatiron School is. Students can enroll in programming courses online or in person at locations in London, New York City, and Washington, DC. The Bootcamp offers a number of courses on web development, cyber security, data science, UI/UX design, and other topics.
Flatiron School offers free coding classes as an introduction for those interested in a full Bootcamp program. It's one of the best free coding classes for adults offered by a top education provider.
What we like about their free coding Bootcamp is that as well as the almost obligatory HTML and CSS, you'll also learn how to code with WordPress, a prized skill.
Because WordPress powers so many websites and blogs (including this one), knowing how to develop for it might be the best move for a freelance web developer who wants to be in high demand all the time.
A UK-based nonprofit that develops and runs 100% free, peer-led training programs in web development for London residents only. 12-week part-time.
Learn Git and Github for Free
Here is a list of some of the best online courses you can join to learn Git and Github for free.
This course is designed to jump right into showing how Git and GitHub work together, focusing on the Git basic workflow.
Students can expect to learn the minimum needed to start using Git in about 30 minutes.
You will learn how to set up Git for Windows and Mac OS X and then how to use Git's help command.
The course then works through the whole Git basic workflow, including starting in GitHub, working locally, and publishing our changes back to GitHub, following the Installation part.
In short, this course will teach you the basics of Git and GitHub, with clear, step-by-step instructions by a highly rated teacher.
This course some basic GIT operations step by step. The course will not dive too deep and takes small steps on each of the five days.
As you progress through the course, you will learn a fundamental workflow for a single person that anyone can use to upload files to BitBucket or GitHub, two of the most well-known open-source Github repositories.
You get a strong, practical foundation for understanding the Git version control system with the Version Control with Git course. Open-source software called Git was first developed by Linus Torvalds. Team files for both big and little projects are managed through Git.
A guided tour to teach you the basics of Git. Set preferences and create your own projects.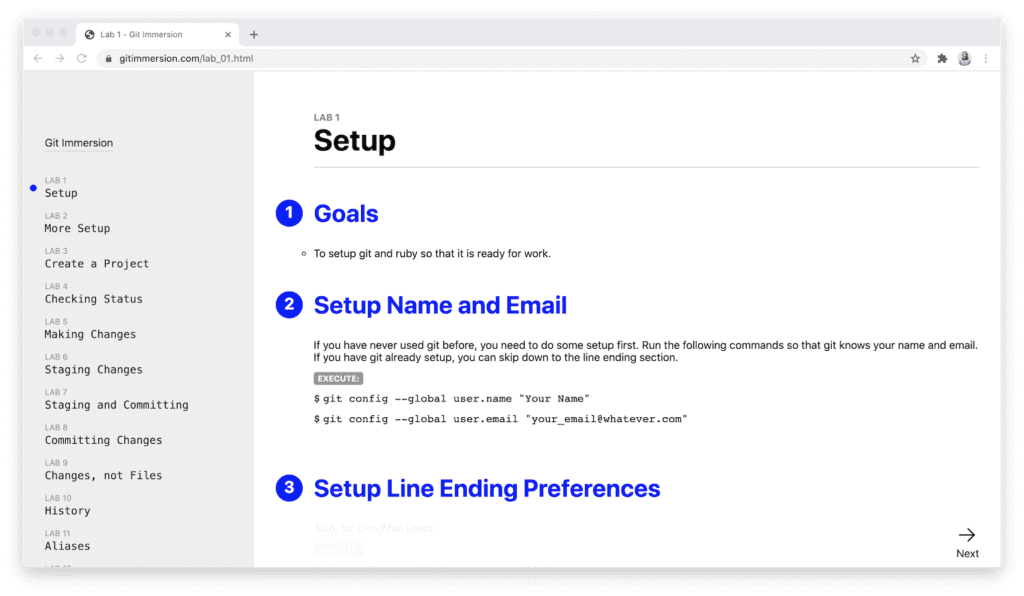 An interactive series of challenges to learn about and experiment with Git.
Learn to Code HTML and CSS
Start learning to code with one of the simplest languages. You can find an HTML beginner tutorial here. (They also offer intermediate and advanced HTML tutorials.) CSS tutorials are here.
An online coding resource for beginners. Broken down into four chapters: the web, HTML5, CSS3, and Sass. It's like an online ebook, but under a Creative Commons Attribution-Non Commercial-ShareAlike 4.0 International License, so you can adapt it for your needs.
Free documentation on HTML and CSS (also JavaScript). Has tutorials for people of different levels, introductory to advanced.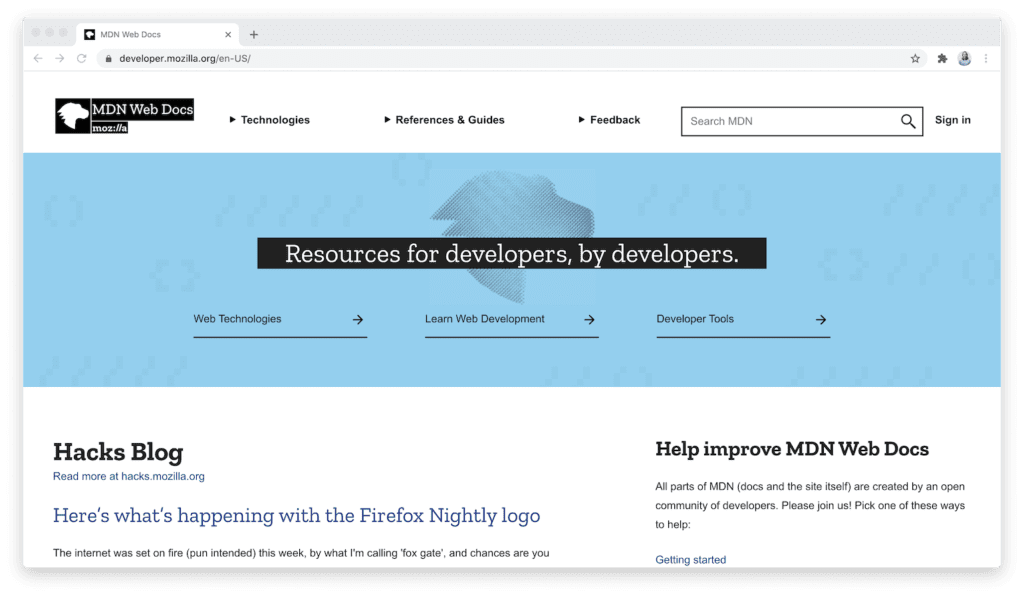 Online coding tutorials to help you build beautiful and intuitive websites. Covers various web design and development topics, ranging from beginner to advanced.
In just one month, students who take Brad Hussey's course should be able to create their own CSS3 projects. In order to put programming concepts into practice and solidify your new skills, you'll follow along as we develop one new project each day.
Learn to Code Javascript for Free
Learn JavaScript from the basics to advanced topics with simple yet detailed explanations. As the name implies, this website's tutorials are focused on JavaScript only.
The main course contains 2 parts which cover JavaScript as a programming language and working with a browser. This website is great for a range of developers, from beginners to advanced.
freeCodeCamp.org is a 501(c)3 non-profit organization that can help you learn to code for free, build real-world projects, and prepare for getting your first (or nth) developer job.
It is among the best developer communities and instructional resources available. Your learning will be reinforced by its project-based curriculum, and its supportive community of volunteers and fellow campers will be there to support you if you need it.
freeCodeCamp also has a YouTube channel, publication, and forum to help you learn topics like Python, JavaScript, data science and machine learning, web development, web design, and a whole lot more.
JavaScript 30 makes it easier to create things with code. Numerous things. Build a thousand items. Seriously. Additionally, there are numerous free JavaScript lessons and tutorials on it.
JavaScript tutorials by JavaScript 30:
30-Day Vanilla JS Coding Challenge
Build 30 things in 30 days with 30 tutorials
No Frameworks × No Compilers × No Libraries × No Boilerplate
Code Mentor offers a 4-week course to learn JavaScript. Yeah, another impressive site for JavaScript tutorials.
Even better, you can arrange a 1:1 lesson with a mentor for a fee of about $15 per hour. You will gain knowledge not just of the fundamentals of JavaScript but also of other well-known JavaScript libraries and associated ideas, like Ajax, Json, jQuery, Angular JS, and others.
It's like a book on a single webpage, broken down into sections about learning to code JavaScript…with cats. Created by programmer Max Ogden. Filled with non-cat gifs but has cat pics at the end. Just because. Lol.
Another hands-on way to learn code online! As you go through lessons, you can type in the window at the bottom. Created by the same folks who make learnpython.org.
Another online coding book, but longer than most. It has big-tech financial backers like Mozilla and Hack Reactor ("the Harvard of coding boot camps").
Learn To Code Python Free Online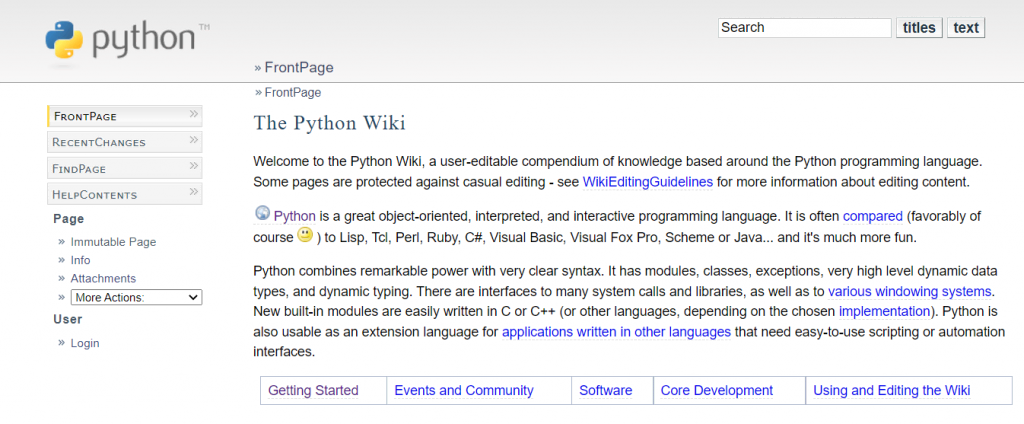 For those looking to study Python fundamentals or more complex topics, the Python wiki compiles a number of useful resources. It includes carefully chosen lists of books, interactive lessons, tutorials, and materials for beginners. Lists of materials in languages other than English are also included. There are also sections with the Python FAQ and typical beginning mistakes.
Free online book for beginners learning to code. You can choose to download it for free as a PDF or spend money on a hard copy.
Learn to code Python for free in a hands-on way with this interactive online coding tutorial. It has a little window at the bottom where you can write your code as you go through the lessons.
52. CodeCademy
For those looking to study Python fundamentals or more complex topics, the Python wiki compiles a number of useful resources. It includes carefully chosen lists of books, interactive lessons, tutorials, and materials for beginners. Lists of materials in languages other than English are also included. There are also sections with the Python FAQ and typical beginner mistakes.
Python code can be executed directly from your browser. You can wait to write a whole program until you are ready, which is an additional benefit. You need to implement some minor adjustments. This is a fantastic and enjoyable method of learning Python programming.
If you're unaware, Google also offers a fantastic collection of beginner-friendly Python courses under the name Google's Python class. People who want to learn Python but have little expertise with programming can take this course for free. Written tutorials, lecture videos, and a ton of coding exercises are all included in the course.
The first exercises work on basic Python concepts like strings and lists, building up to the next exercises, which are full programs dealing with text files, processes, and HTTP connections.
The book costs money, but the coding website is free. Written by Zed Shaw. (I used the book when I first started learning.)
Learn to Code With C# Online
Microsoft created C#, a cutting-edge, component-oriented, and type-safe language that utilizes the.NET Framework. It is frequently used by people to create different Windows programs. Please take a look at the following websites if you wish to learn C# coding.
Interactive, text-based C# coding lessons for beginners with simple exercises to reinforce your learning.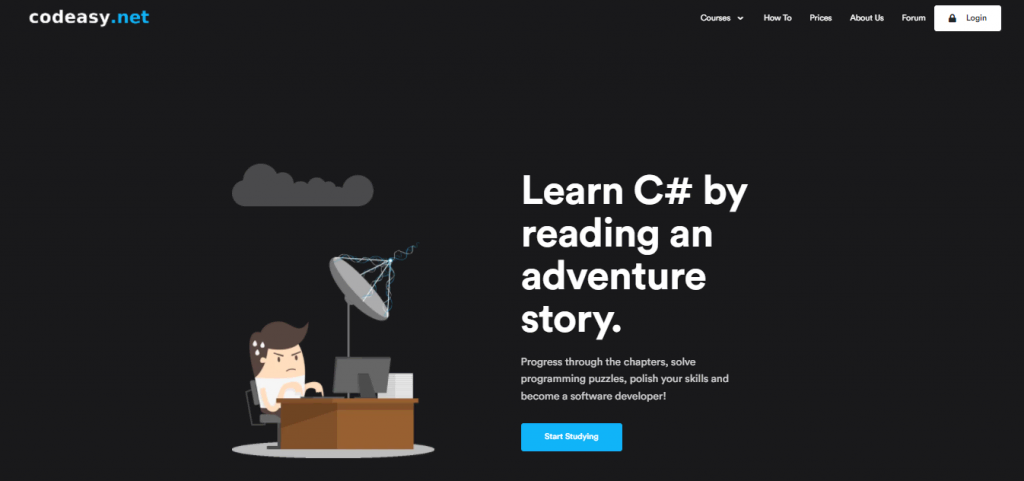 A website called Codeasy uses an interactive post-apocalyptic tale to teach C# programming. Users must buy a product to get practice assignments, although the entire story and coding theory are available for free. 18 chapters make up the curriculum, which is broken up into three online courses called Elementary, Beginner, and Intermediate.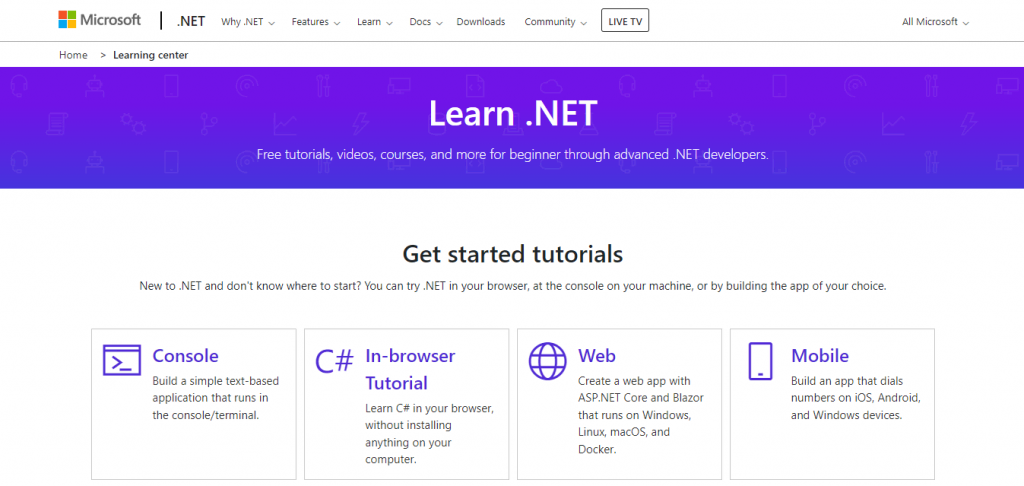 Learn.NET, often known as the learning center for the Microsoft.NET website, is divided into two sections: Get Started Tutorials and Learning Materials. The former includes instructions on how to use the.NET framework to carry out numerous tasks, including creating online and mobile apps. The latter offers free lectures, modules, tutorials, and videos on a range of subjects, including C#.
Learn C++ for Free
Another programming language belonging to the C family, C++ is a middle-level object-oriented language used for various purposes, from building operating systems to creating games. Here are some great resources for people new to the C++ language.
A free coding website devoted to teaching you how to program in C++. The free coding classes are made for programmers of all levels (but especially those with no prior experience). The tutorials walk you through all the steps to write, compile and debug C++ programs — with plenty of examples.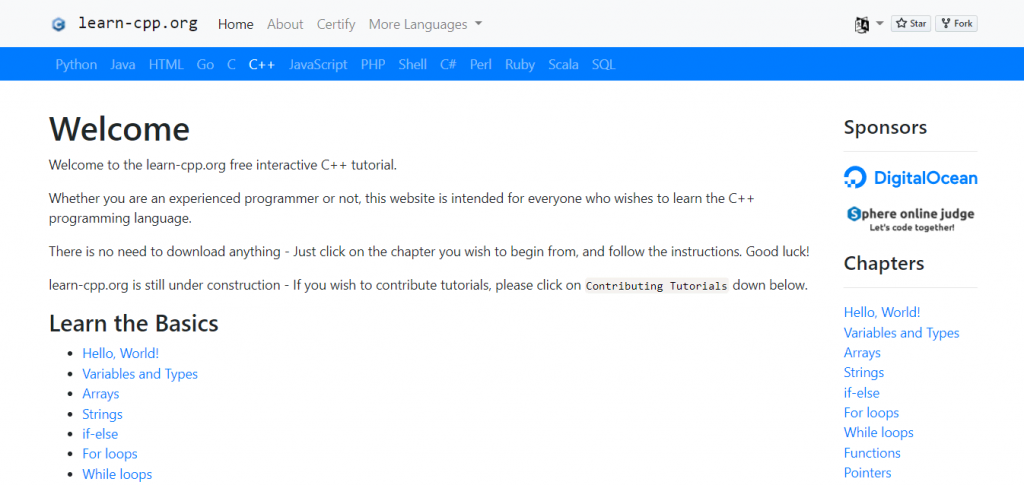 An interactive tutorial for learning C++ programming is available at Learn-CPP.org. Learn the Basics, Advanced, and Integrated and Spiral Learning make up the tutorial's three sections. So that students can immediately put what they have learned into practice, each chapter concludes with an exercise.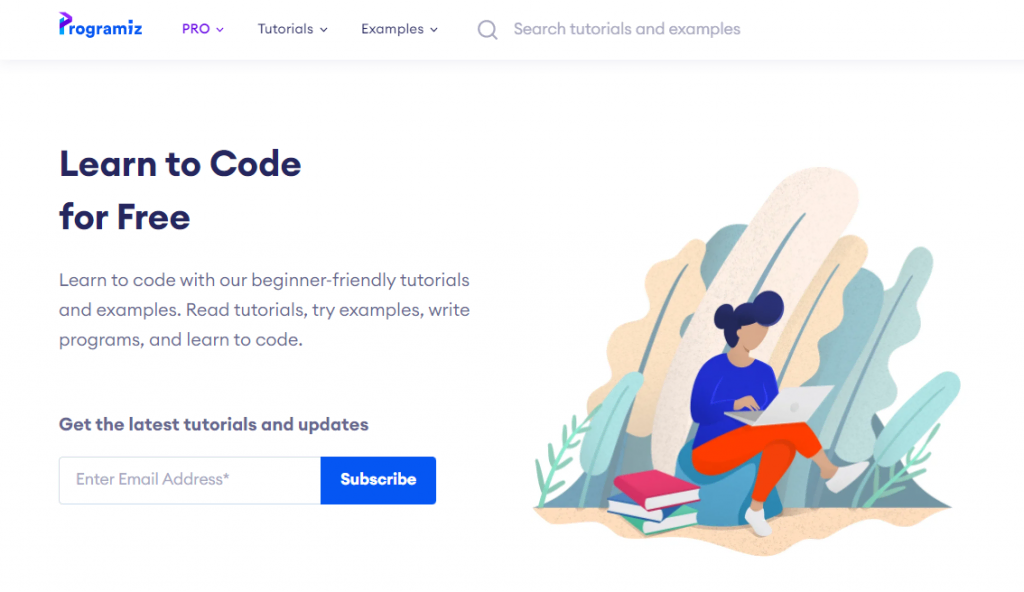 Programiz is a learning platform that offers a variety of coding challenges, lessons, references, and examples. It was created by programmers for programmers. It features educational materials for many programming languages, including C++. Courses and challenges are only accessible to Pro customers; tutorials, examples, and reference materials are all available for free.
This C++ tutorial can be found on the Google for Education website and offers explanations, videos, examples, and activities to help with C++ programming. The Google guide is divided into four key sections: Quiz, C++ in Depth, Next Steps, and Getting Started. There are other links to further resources for learning as well.
Learn to Code With Java Online
Not to be confused with JavaScript, Java is a high-level compiled and interpreted programming language typically used to build applications. According to our experts, these are some of the best resources for learning Java.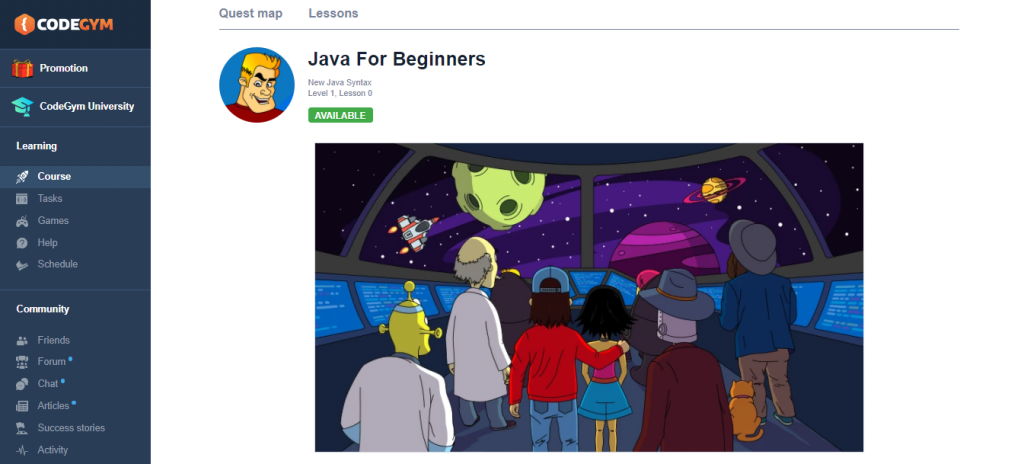 CodeGym is an interactive, gamified online Java programming school that teaches in a distinctive approach. The Java Syntax, Core, Multithreading, and Collections missions make up the tutorial. There are around 1000 coding tasks spread across 40 levels. The website offers lessons in the style of an engaging narrative about a spaceship crew that becomes stranded on an uncharted planet.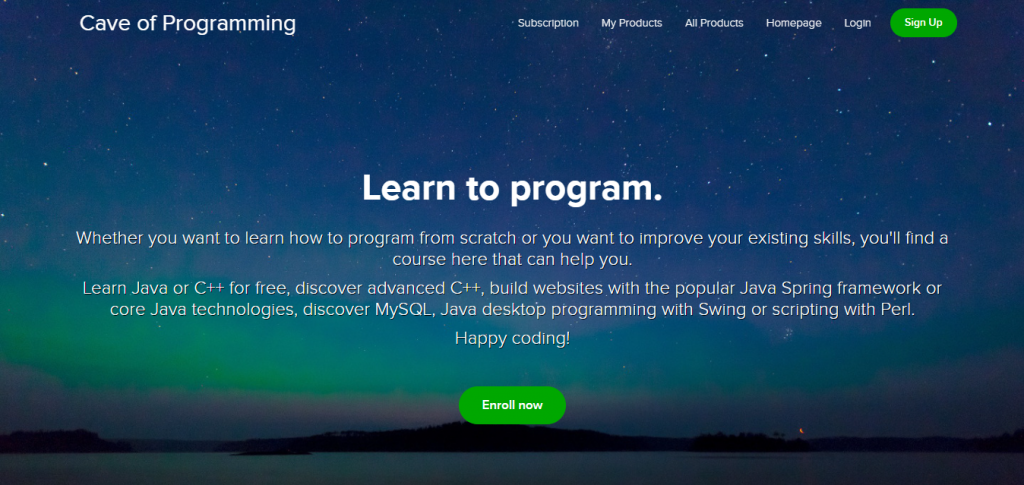 The website Cave of Programming, developed by John Purcell, offers a variety of video tutorials on various programming subjects like Perl, C++, Android, and Java. Purcell, who has more than ten years of experience in software development, is the instructor for the classes. His free online courses include ones on Java and C++ for beginners.
Suggested courses: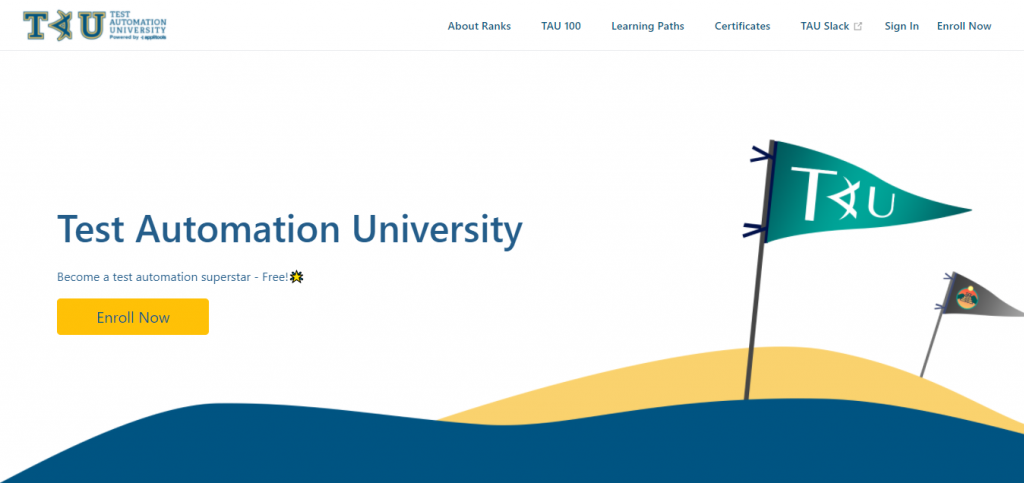 Test Automation University is a website that provides free test automation classes and is powered by the visual testing software provider Applitools. Quizzes and video viewing are both options for students. They can also earn credits, rank badges, and certificates to add interest to their education. Although primarily geared on understanding test automation, it also offers a thorough introduction to Java programming.
Suggested course: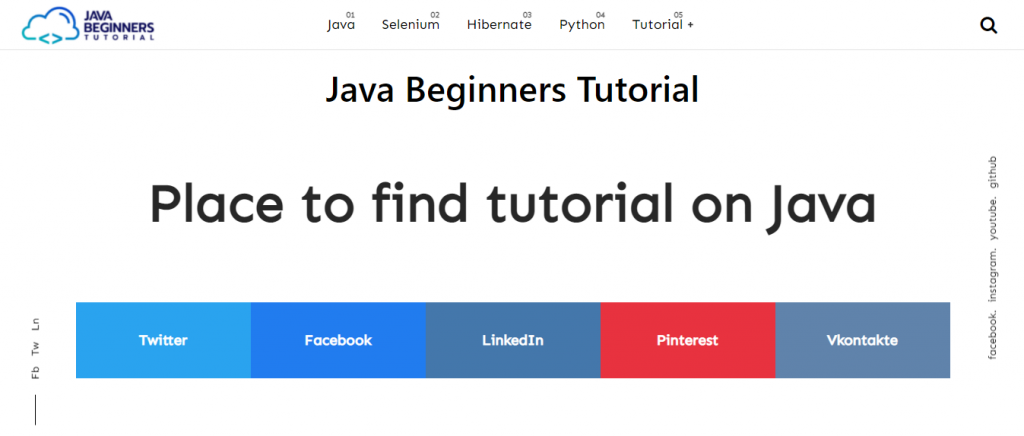 A website called Java Beginners Tutorial offers tutorials for many computer languages and technologies, including Python, Selenium, and Java. Videos, explanations, and code samples make up the tutorials. The Core Java education on the website is thorough, covering everything from Java's history to more complex subjects like Java Virtual Machine.
Suggested tutorial: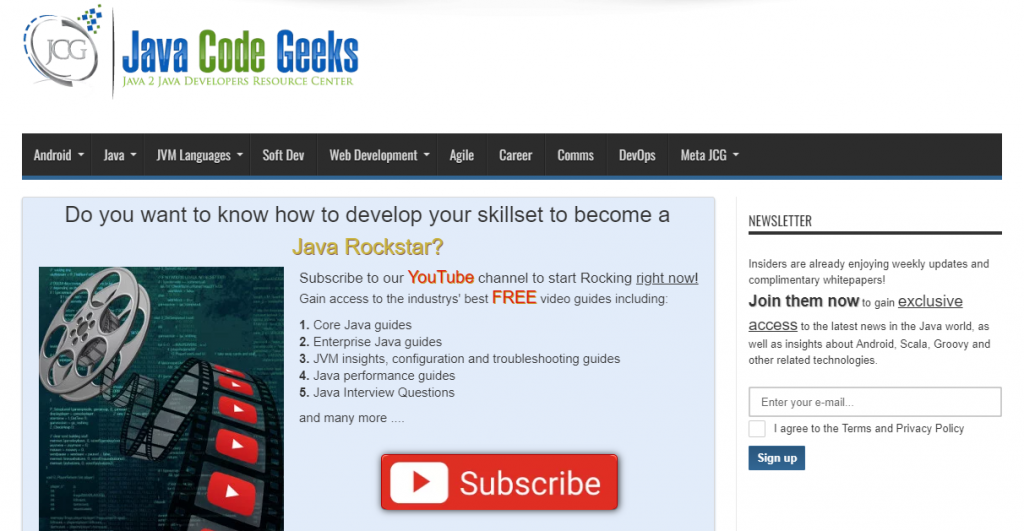 Part of Code Geeks Network, Java Code Geeks is an independent online community focused on creating a resource center for Java developers. The website provides a wide range of content, including tutorials, code examples, opinion pieces, and listicles. There are also comprehensive tutorial master posts for Java, Android, and Scala.
Learn PHP for Free
An interactive PHP tutorial that guides you through using a code editor to write PHP code. The free coding website employs quick and efficient browser tasks to teach you the language.
An ebook that aims to teach everyone how to be a web developer. No existing web development or PHP experience is required.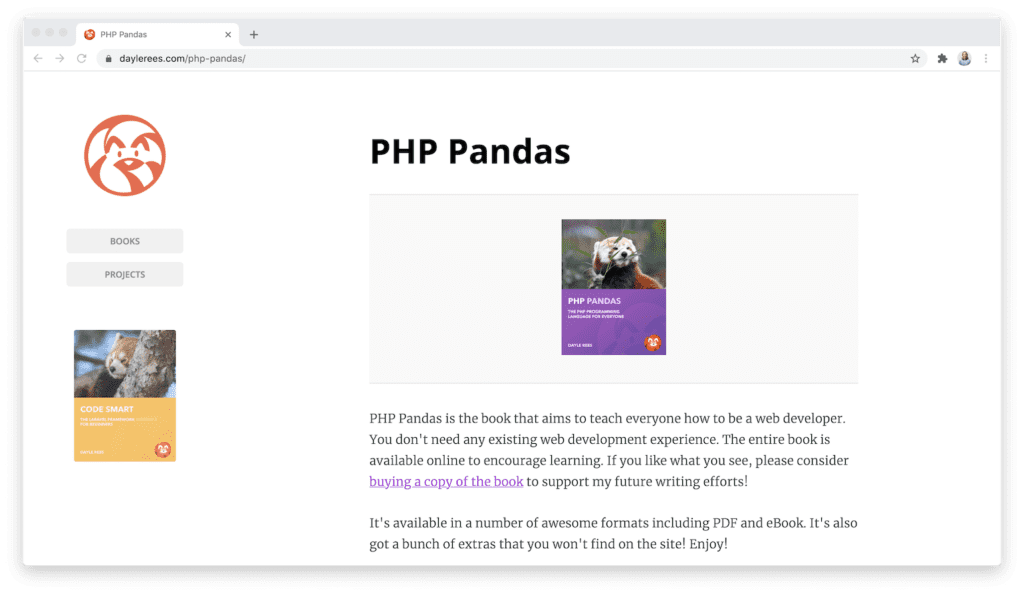 A quick reference resource where you can find PHP best practices, accepted coding standards, and links to authoritative PHP tutorials around the web.
Learn To Code Ruby for Free
Another book was written by Zed Shaw. A free HTML version of the book is available online. Buying the hard copy also gets you access to videos.
A quick, interactive way to learn software coding with Ruby on Rails right in your browser. Learn Rails basics like models, views, and controllers in just 1 hour. Created by Code School.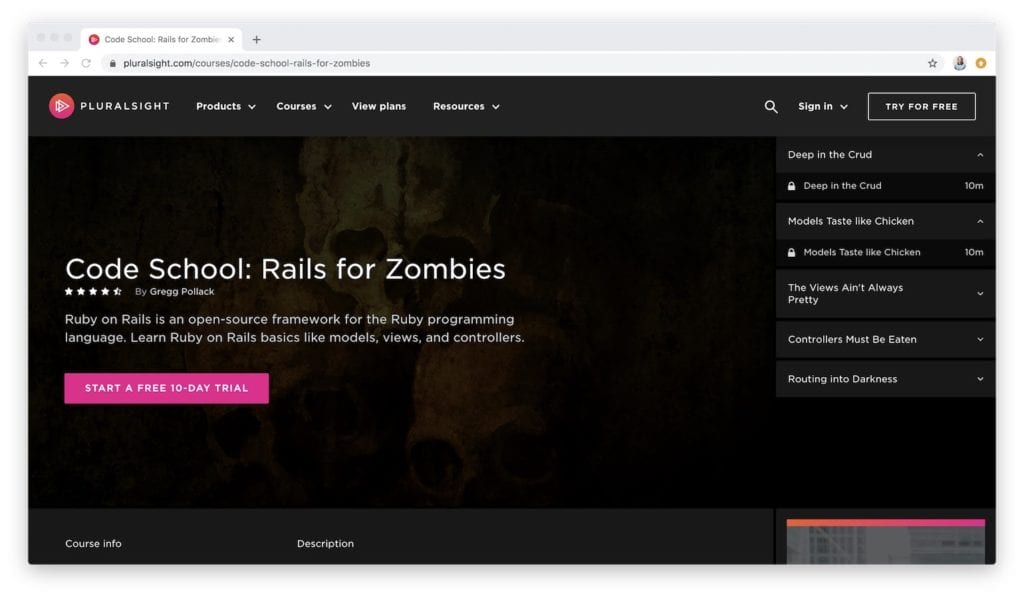 A platform for coding assessments called Coderbyte aids individuals in honing their coding abilities. The website also provides four online introductory classes on algorithms, JavaScript, Python, and Ruby in addition to its code challenges and interview kits. There are challenges and videos in each course. While all of the videos are free to view, some of the challenges are behind a barrier.
Suggested course:
The 14-chapter book by Michael Hartl. You can purchase ebooks, screencasts from the author, and more. Or just read it for free online.
The Koans walk you along the path to enlightenment in order to learn Ruby. With this method, you'll learn Ruby syntax and some of the language quirks quickly.
RubyMonk is a website that provides free and interactive courses for learning Ruby. It was developed by the tech consulting company C42 Engineering. Four online Ruby courses for beginning, intermediate, and expert levels are available for competition. Along with the instructional materials, it offers a ton of Ruby coding challenges for students to sharpen their skills.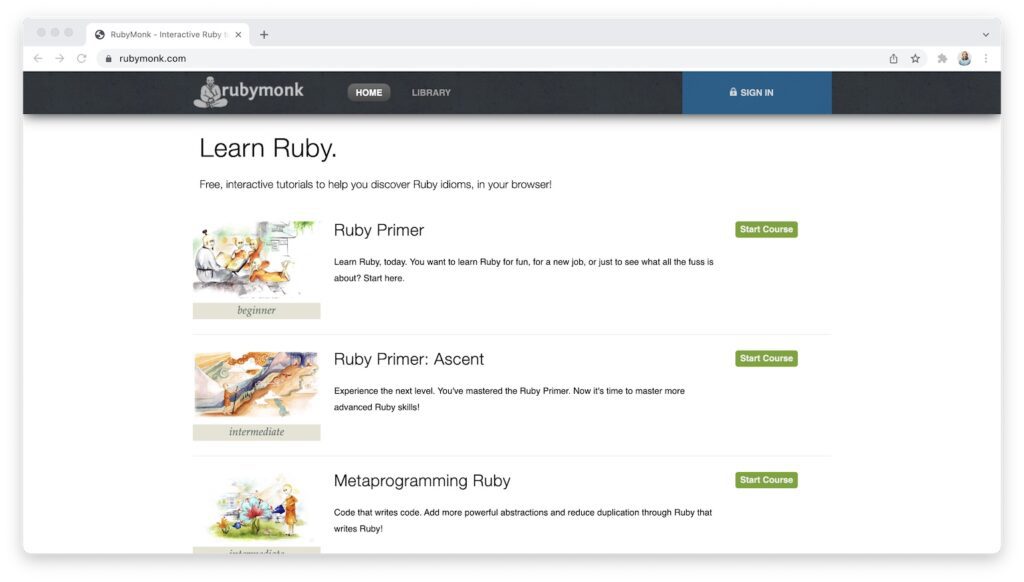 TryRuby is a free Ruby tutorial that teaches novices the basic concepts of writing and executing Ruby code. Students may create code and immediately see the results thanks to the online code editor that is provided for each stage of the course.
Furthermore, it comes in several languages, including Chinese, Japanese, and Spanish.
Created by the official Ruby website, this is a great option for beginners learning to code Ruby. You'll learn the basics of the language in 20 minutes or less, giving you a solid starting point.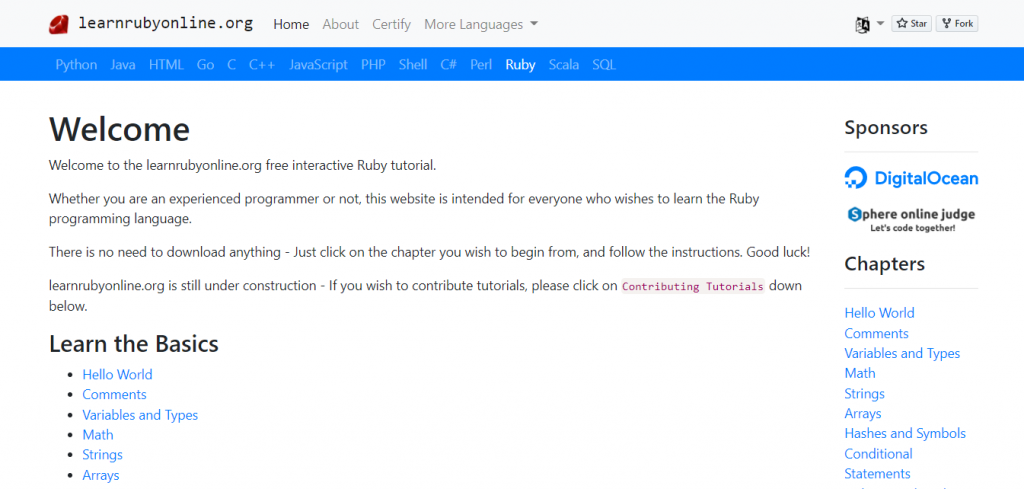 Part of the Interactive Tutorials series, LearnRubyOnline.org is a free and interactive tutorial teaching the fundamentals of Ruby. Each chapter comes with its own exercise, encouraging students to use the online code editor to write code, run it, and observe the results.
Learn Go for Free
The official Go website has tons of free resources for learning Go, including tutorials, documentation, a Go playground, and more.
A free hands-on introduction to Go using annotated example programs.
A free course that helps you become more familiar with Go while developing your skills as a programmer. In the course, you'll build ~20 mini-applications, packages, and tools that are each designed to teach you something different.
Learn The Command Line Online
Free command line tutorial for complete beginners. Walks you through the basics of the Unix command line—no technical prerequisites required.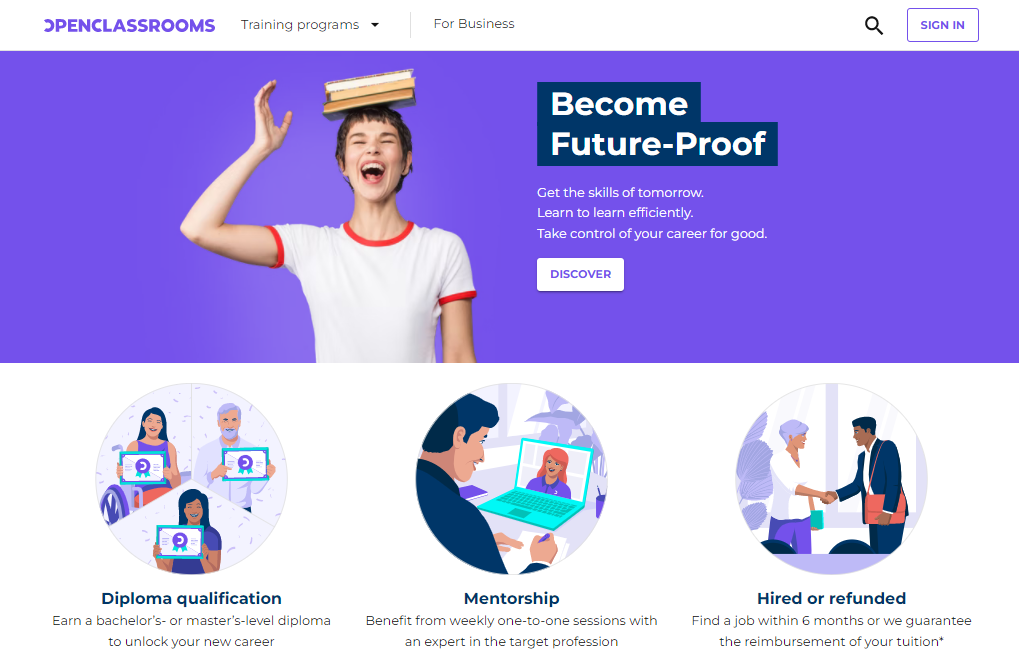 Available to students all over the world, OpenClassrooms is a platform providing career coaching and education-to-employment services. By working on projects and attending personalized mentorship sessions, people can earn bachelors or master's-level diplomas in various IT fields. It offers some free courses, including its beginner command line course.
Suggested course:
Free video series created by Wes Bos. More at an intermediate level, so not for total newbies.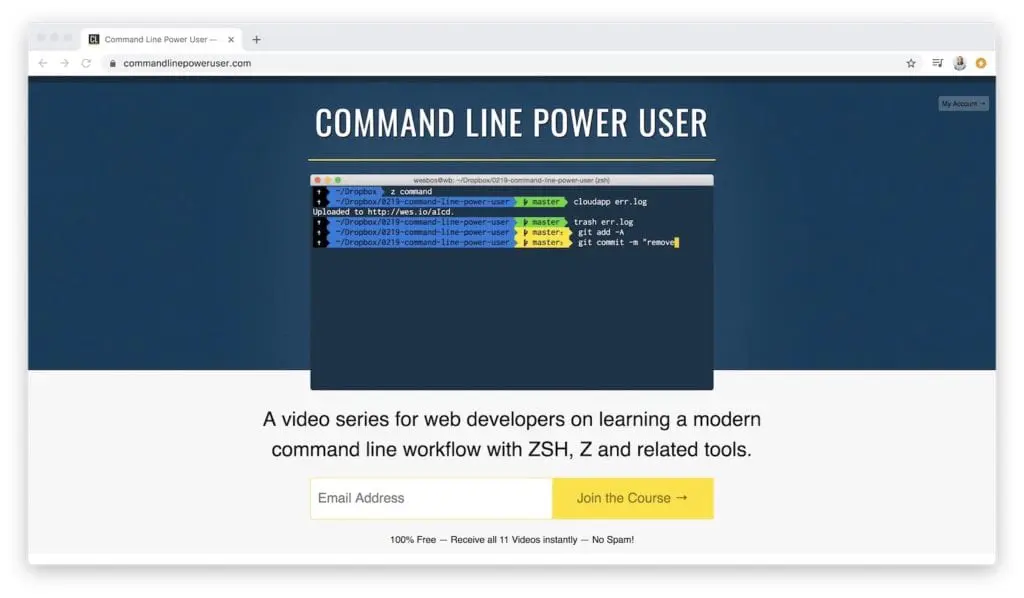 Free online book by Mark Bates that goes very in-depth. You can purchase hard copy or screencasts.
Teaching people in-demand skills in tech and business, Udacity offers numerous self-paced programs with varying skill levels. Examples of subjects include data science, cybersecurity, and artificial intelligence. Both free and premium online courses are available.
Suggested programs:
Learn Cybersecurity for Free
Free crowd-sourced cybersecurity and IT learning videos. Covers topics like computer and forensics, cryptography, and cyber threat intelligence.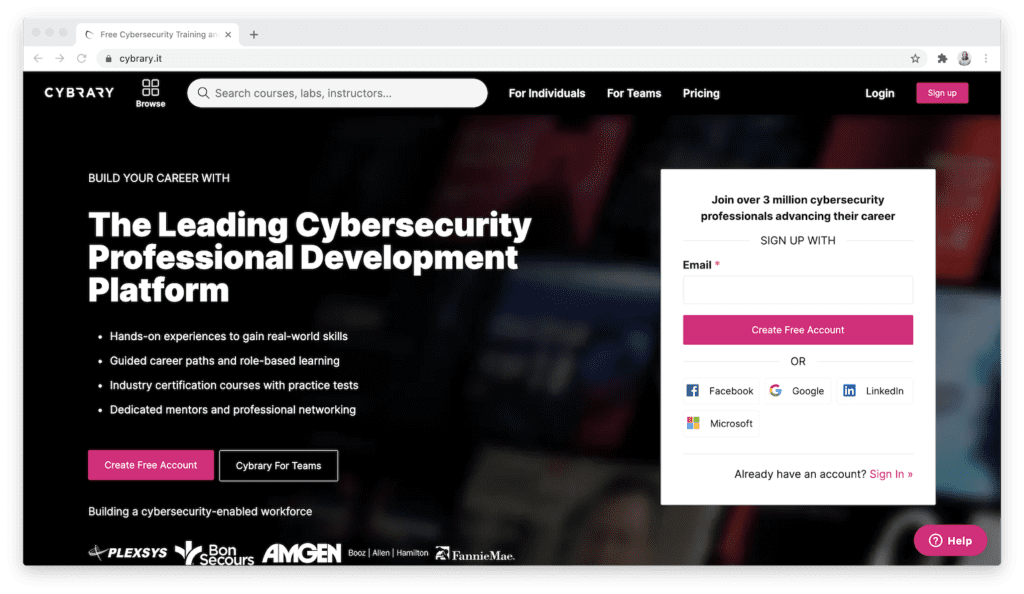 88. TryHackMe
TryHackMe features content for people new to cybersecurity and covers a broad range of topics, including training for offensive and defensive security. TryHackMe also has Capture the Flag exercises with walk-through write-ups by contributing users that let members see how to approach and solve problems.
Free online courses that teach the core concepts needed to assess and protect information security systems. Tutorials cover operating systems, networking, systems admin, and more.
Learn Machine Learning / AI for Free
This website was created by professional developer and machine learning practitioner Jason Brownlee, Ph.D. It offers free tutorials, an ebook, and other resources.
Learn about AI and machine learning from Google's ML specialists. provides tools to aid in the development of AI skills, including tutorials, courses, videos, and activities. Perfect for novices and seasoned machine learning experts alike.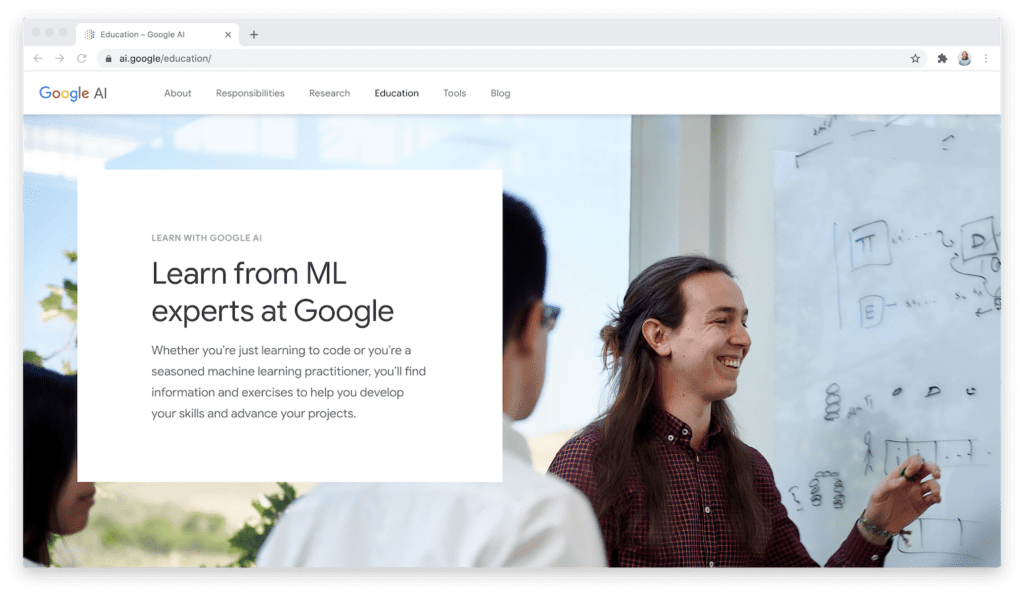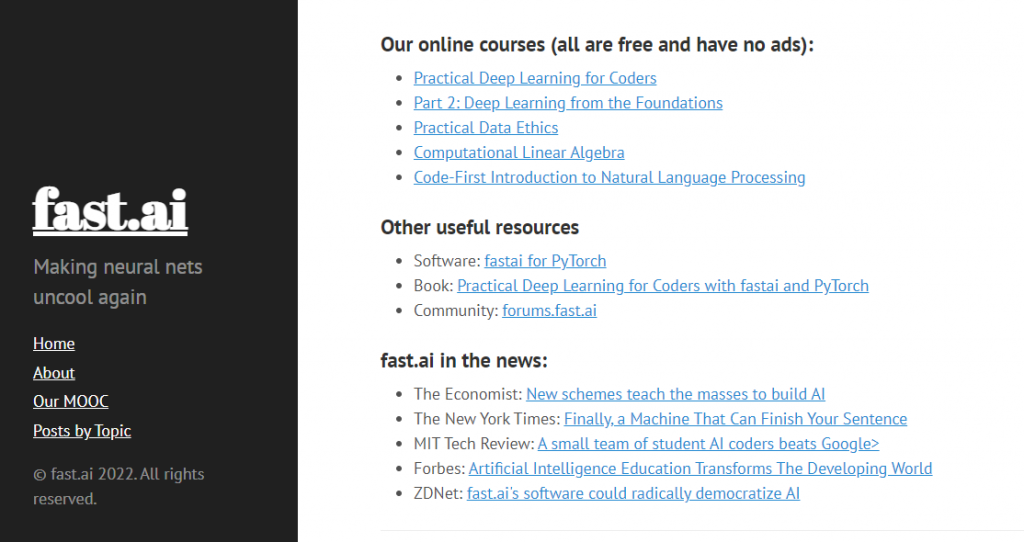 A non-profit research group is focusing on deep learning and AI, fast.ai aims to democratize deep learning by offering free courses on a software library, research, and a community.
There are five courses that consist of deep learning, practical data ethics, computational linear algebra, and the introduction to natural language processing.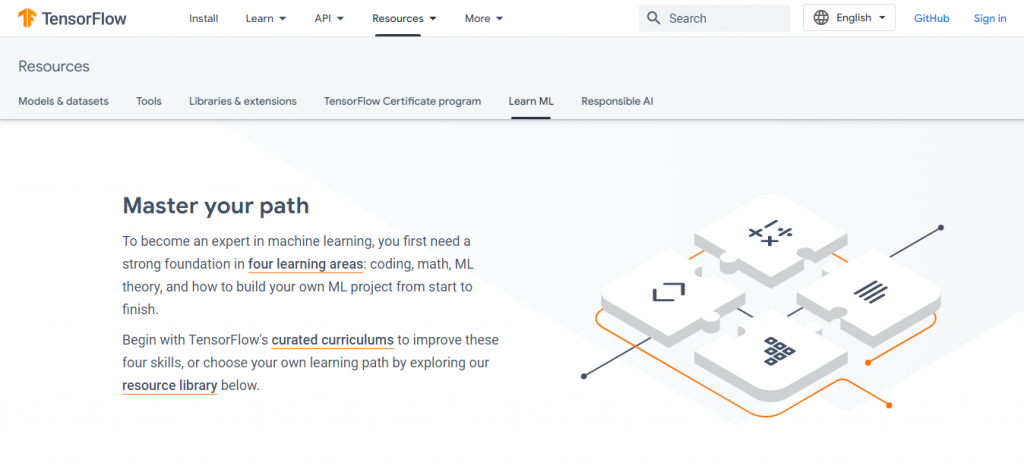 The TensorFlow Machine Learning Education page, which is a part of the official TensorFlow website, offers instructions for newcomers on how to learn coding, arithmetic, machine learning theory, and project development. Students can finish the curricula that TensorFlow has put out or design their own learning paths by perusing the library of suggested educational materials in TensorFlow.
Learn Data Science / Analysis for Free
Hands-on free coding courses teach you the skills you need to become a data scientist, data analyst, or data engineer. Build projects in your browser and work on real-life data science problems.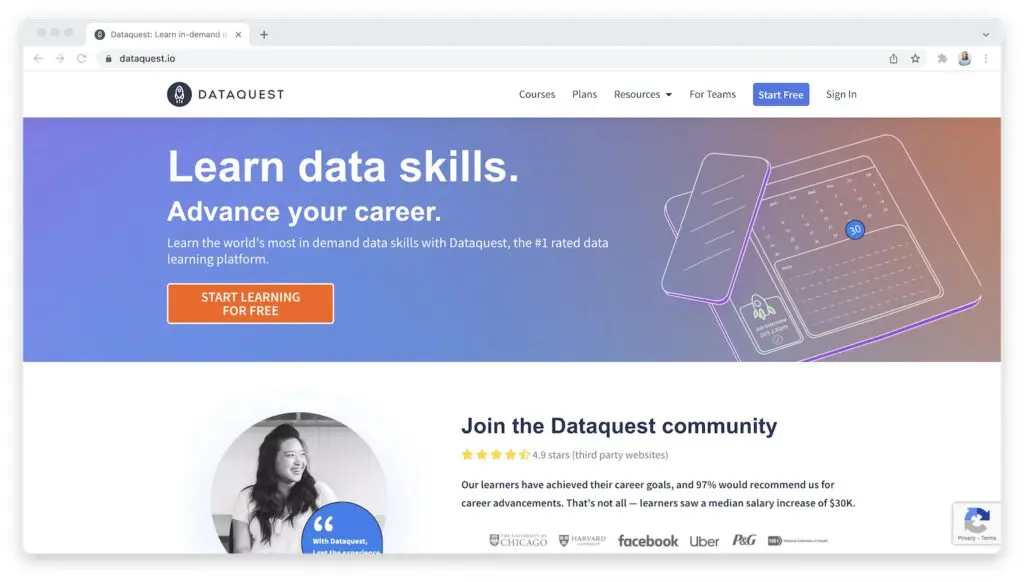 a short but thorough introduction to data analysis. A carefully thought-out curriculum composed of free online lectures, homework assignments, projects, and more will teach you how to manage and analyze data. (Plus, no programming or data analysis experience is necessary!)
One of the simplest data science online courses you'll find online is this one. Python programming, the most widely used programming language for data science worldwide, is covered in this 2.5-hour video course on data science.
No-nonsense data science and machine learning guides, mini-courses, and tutorials for busy people learning to program online. You can also download code cheat sheets, checklists, and worksheets to shorten the data science learning curve.
Want to move from intermediate to advanced spreadsheet proficiency? Ben Collins' course uses Google Sheets to teach you one advanced spreadsheet formula or method per day for 30 days. These brief lessons will familiarize you with more intricate spreadsheet data manipulation techniques.
Learn DevOps for Free
Covers all aspects of DevOps, including its underlying philosophy, tools used in DevOps, its business impact, best practices, and more. Here, you'll find blog posts, in-depth features, the latest DevOps news, on-demand webinars, a library of DevOps resources, etc. — all for free.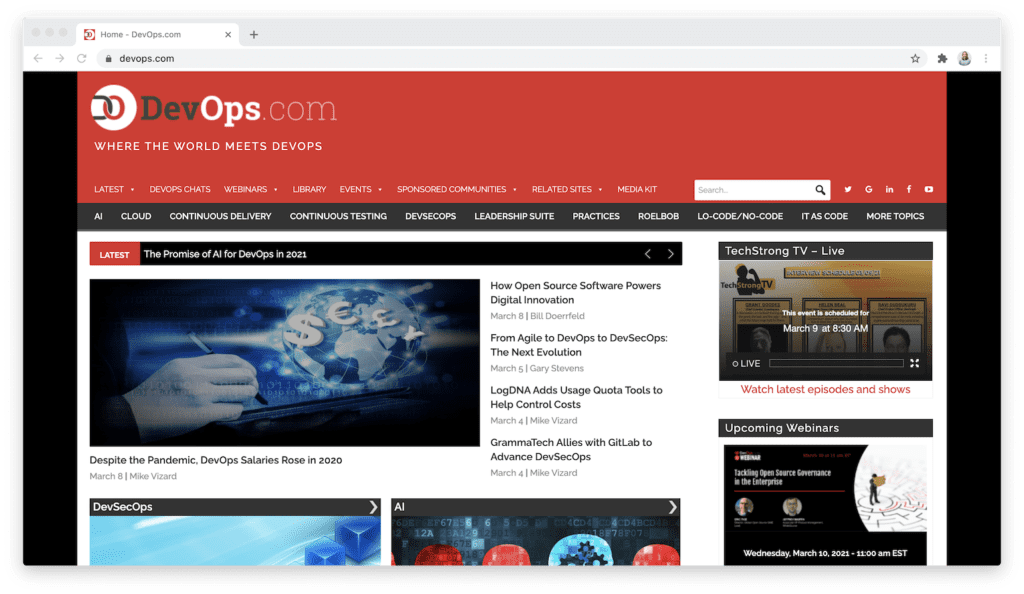 Offers various courses, training, and certifications in DevOps, including topics like build & release, Chef, Puppet, Jenkins, Ansible, and tons of other DevOps topics. There are free video courses, blog articles, slides, and more.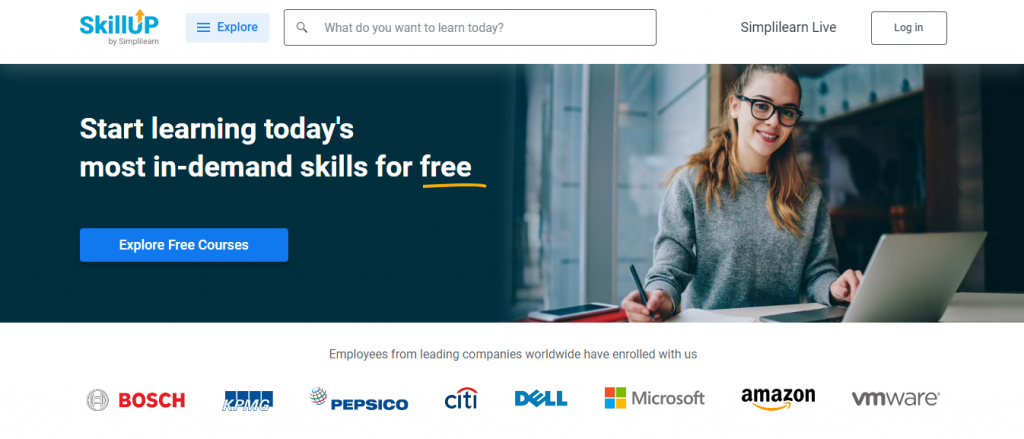 A quality online boot camp and certification training provider is Simplilearn. Its learning platform, SkillUp, offers a wide selection of online courses on in-demand technological and professional abilities. The courses are free to take, self-paced, and created by professionals in the field.
Suggested courses:
This ebook covers a wide range of DevOps skills and theory, mostly focusing on how to develop a culture of DevOps at your company, and how to fit that culture to various types of personalities. Keep in mind that this ebook is not about DevOps tools; it's more about the people and the culture behind DevOps.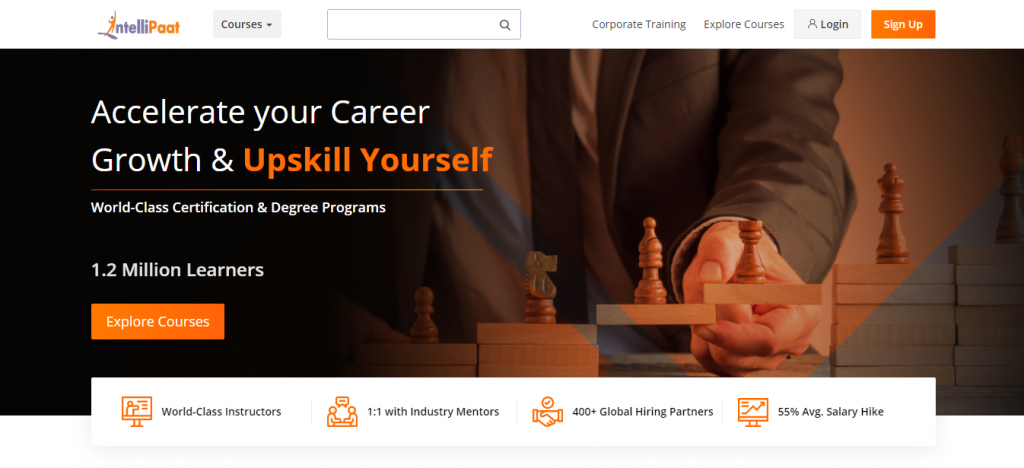 Intellipaat is a global online professional training provider offering programs to help people become certified tech specialists. Some examples include its cloud architect and web developer certification programs. In addition to its paid courses, it provides hours of free introductory courses complete with various quizzes and assignments.
Learn Mobile App Development for Free
Official site for Android app developers. Learn how to build your first Android app with detailed online coding tutorials and training courses.
Free, self-paced online coding courses for both Android beginners and experienced developers. Created by experts at Google and Udacity.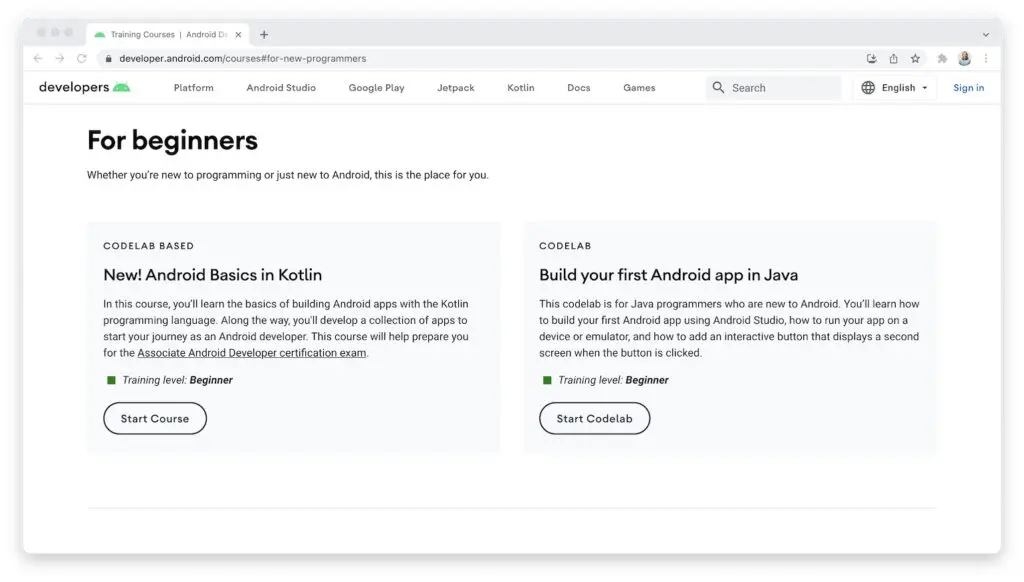 This official Android documentation provides developer guides and API references for building Android products. The guides cover Android app basics, devices, products, app architecture, core topics, games, and best practices. In addition, it offers design and quality guidelines as well as code samples and templates for accelerating app development.
Part of Apple's documentation archive, this is a perfect starting point for learning to code real-world iOS apps that run on iPhone and iPad.
iPad app that lets you experiment with Swift through interactive mini-puzzles. Plus, you'll get to see your code run in a beautiful 3D world.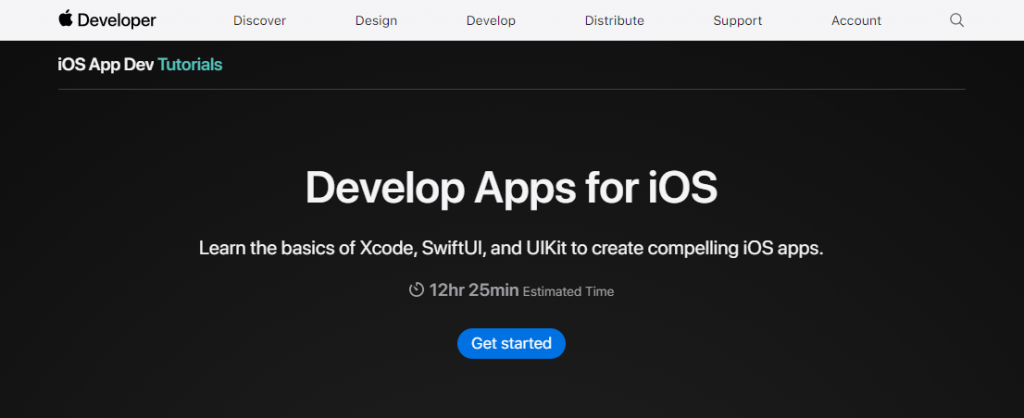 Part of the official Apple Developer website, the iOS App Dev Tutorials help developers learn the basics of Xcode, SwiftUI, and UIKit to create iOS apps. The complete tutorial consists of three sections: SwiftUI, UIKit, and Resources. The SwiftUI section contains eight chapters, the UIKit part has six chapters, and the Resources section lists extra learning materials.
Learn Game Development for Free
Free game development ebooks and courses, covering topics like 3D game dev, augmented reality, Unity, Unreal Engine, and more. Courses come with source code and PDF notes.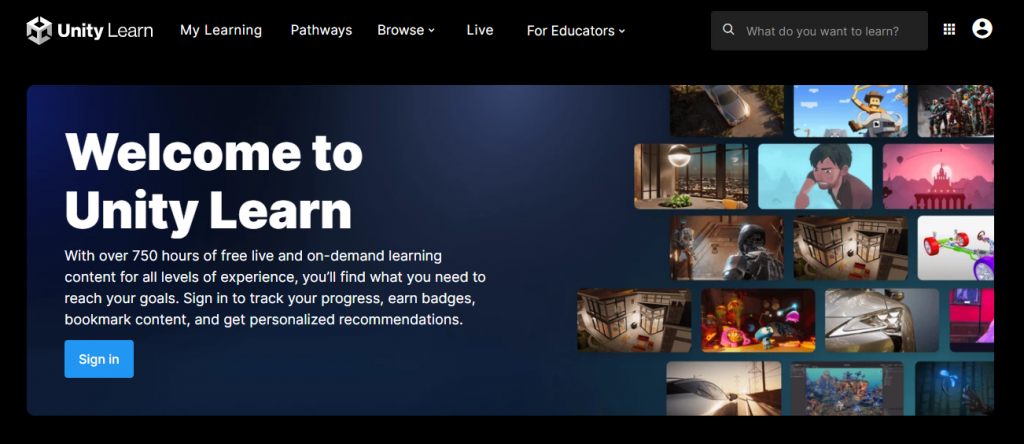 Part of the official Unity game engine website, Unity Learn is a learning platform providing over 700 hours of free learning content on game development. People can complete curated learning pathways or browse the many tutorials, projects, and online courses available on the site. The learning resources cover multiple topics and are suitable for various skill levels.
GameDev.net is a free resource for game development with forums, tutorials, blogs, projects, portfolios, news, and more.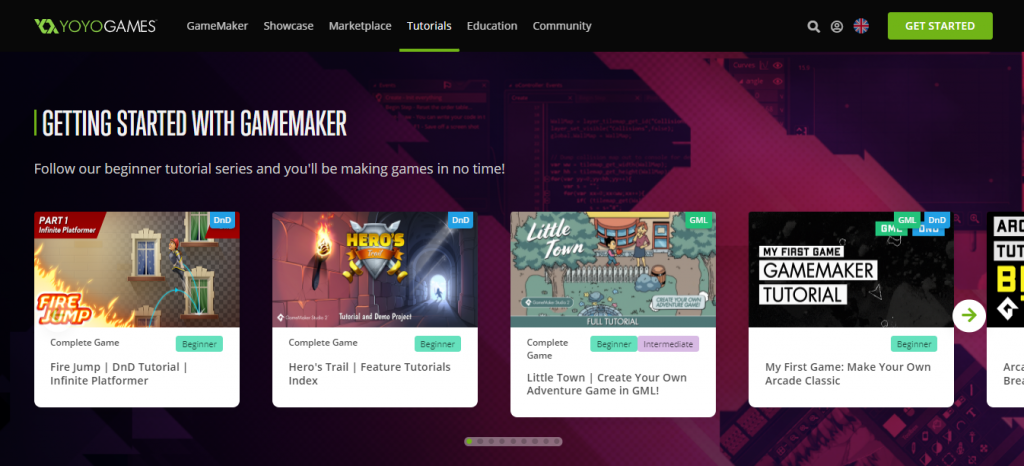 YoYo Games developed the user-friendly cross-platform game engine known as GameMaker. Numerous free lessons on using GameMaker Studio 2 to create games from scratch are available on the YoYo Games website. Game Maker Language (GML) and Drag and Drop are the two coding languages that may be used by students to create games (DND).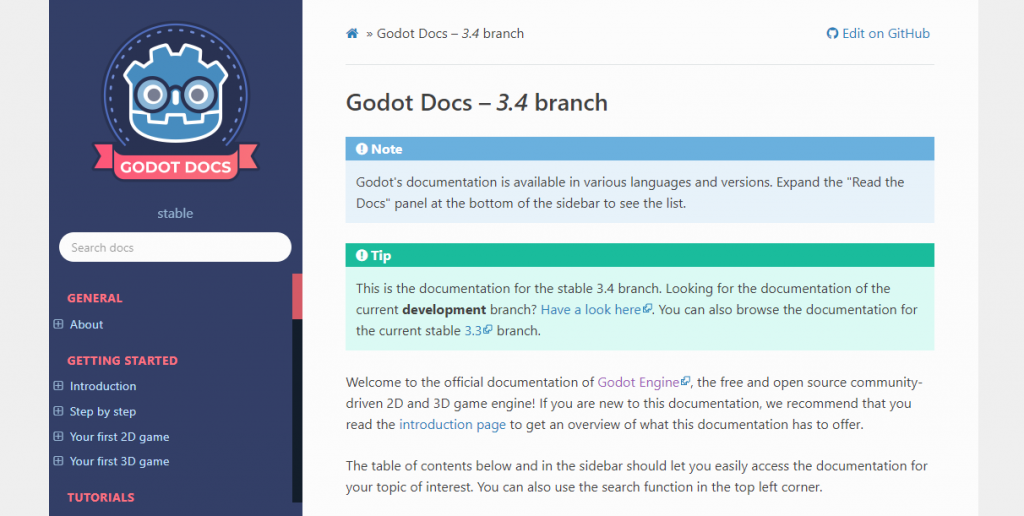 This is the documentation website for Godot Engine, a free and open-source game engine. The website features many helpful tutorials. In addition to the general Godot introduction, the Getting Started section has guides on how to use the editor and engine as well as step-by-step instructions guiding beginners through the process of building 2D and 3D games.
​​Blogs to Help You Learn Programming

Better Programming is a programming-oriented blog on Medium. They publish multiple articles every day from several authors, all curated and edited to ensure excellent content.
They cover a range of subjects and languages for programming, with content for both beginners and very advanced readers. If you want to develop programming skills, it's a must-have on your daily reading list. So, before you plan to start your own programming blog, it is best to be a regular reader of Better Programming blogs!

This popular coding blog focuses on modern libraries, programming tutorials and shortcuts for programming in JavaScript. David Walsh and his guest bloggers provide daily posts and commentary to help you learn how to code quicker and more efficiently.
On his blog, you'll find everything from how to build a video player using React to using Node.js and mastering advanced HTML/CSS techniques by subscribing to this leading programming blog.

This blog features articles about programming hacks, strategies, and quick cuts. There are tutorials for C, Java, PHP, Python, and Ruby on Rails. The blog was started in 2011 with the goal of assisting readers in learning about programming and development tools.
The blog founder began the site with some simple notes and questions he gathered in his college class. The posts were evidently in high demand by the audience, and eventually, his personal blog became the one-stop destination for programming reviews, snippets, and tutorials.
They have lots of writers and publish often. Topics range from HTML and CSS to entrepreneurship. The coding website also offers paid books and courses on SitePoint Premium. Make sure to check out their newer "collections" – which include coding tutorials on topics like WordPress security, React.JS, and Swift. (And new ones are added daily!)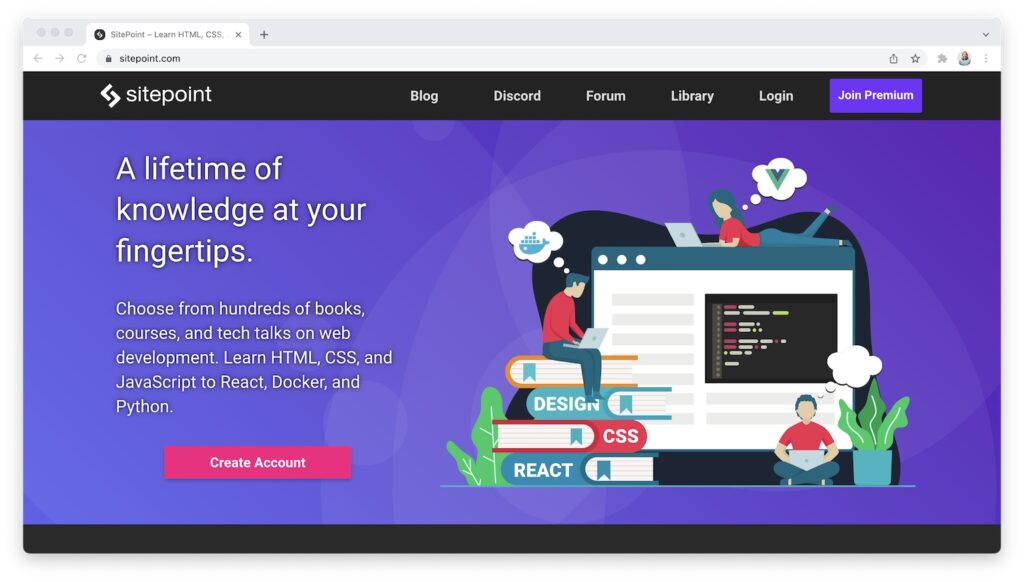 Over 22 million people across the world are using SoloLearn, the coding community with the fastest growth, to learn how to code.
What are the subjects that this programming blog covers? Using this platform, you can learn over 10 programming languages for free. Posts related to Python, HTML, CSS, JavaScript, C++, Java, PHP, SQL, Ruby, JQuery, C#, Swift, and more are included in the collection!
What defines this website's coding as being unique? The main benefit of this website is that it combines the best user-generated, first-rate content with live support. You can interact with other programmers on their forum to improve your coding abilities.
Learn WordPress for Free
Recordings of live WordCamp lectures around the world. Created by Automattic.
Website for beginner WP users. Great WP glossary of terms, plus coupon deals, video tutorials, and a blog which publishes useful articles by different authors.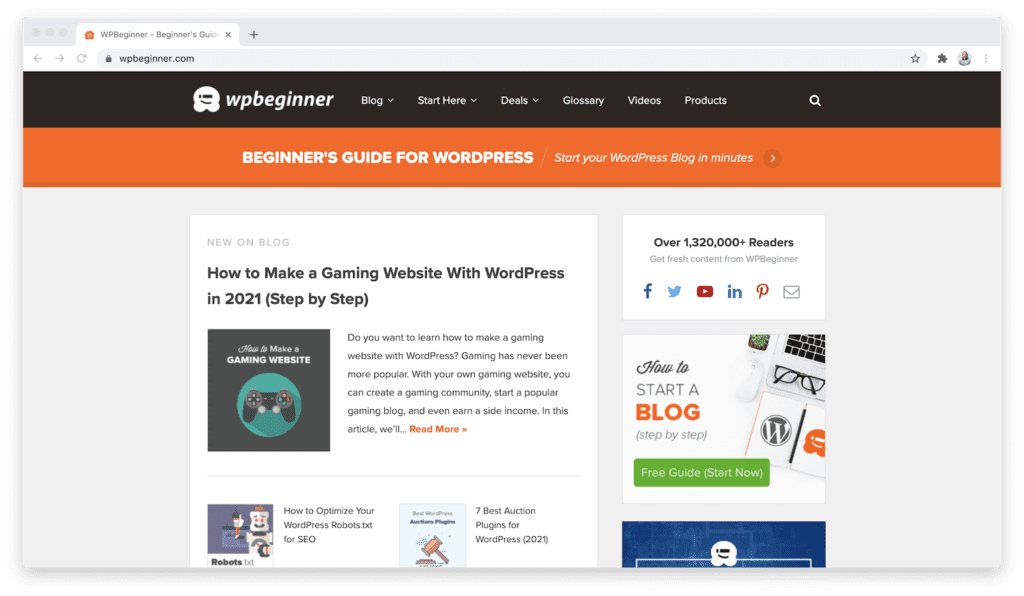 Bonus resource: WordPress is a great content management system for blogging. If you're interested in creating your own blog, I highly recommend checking out my friend Ryan Robinson's detailed guide on starting a blog.
Six modules of more than 50 free WordPress training videos are available to assist you in creating your website. The best resource for learning how to code your own WordPress website. Reminder: The site's new version will debut in the spring of 2022!
Conclusion
You've just learned about a ton of the best places to learn how to code for free! Taking advantage of all the free online coding resources out there is definitely the way to go when you're just starting out.
Nowadays, online coding learning resources let people curate their own educational materials and study at their own pace. Furthermore, as our comprehensive list shows, learning to code doesn't have to be expensive.
We hope this article has helped you determine the right coding learning resources to kickstart your journey into the programming world. Good luck!
Want to stay updated on our latest coding tutorial guides and projects then you can join our Telegram channel here – Join Codelivly Telegram channel.
Thank you for reading, Have a nice day